2022-2023 Class Trip
On Monday, November 21st, the freshmen, and sophomores traveled to New York City to see the 2022 Christmas Spectacular. The juniors and seniors likewise went the day after, on Tuesday, November 22nd. Students boarded coach buses after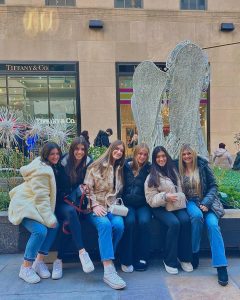 going to their respective first-period classes for a short duration of time. Students found their seats and buddied up with a friend from their groups that they made to travel the city with. Each group was given a chaperone to report back to so that everyone was accounted for. The bus rides were filled with sing-alongs and movie-watching. Some favorites among the buses were Tangled, Frozen, and Cruella. Students were able to leave their bags and belongings in their seats on the bus. Restrictions on bag sizes at Radio City Music Hall were mandated which required students to bring in as little as possible. Once students arrived in New York, despite holiday traffic, students started to explore Rockefeller Center after traveling down the famous 5th Avenue. On the way to our stop, students passed various museums, a zoo, and Central Park. Groups stepped off the bus and into the big city near St. Patrick's Cathedral. A stunning and intricately built neo-gothic Catholic cathedral on 5th Avenue.
From there, groups were off walking the streets of the big apple. Many checked out the shops lining the streets, like for instance, the Lego store where some made purchases. Many found great picture spots to create memories with their friends and get the perfect Instagram picture. Furthermore, many stayed near Rockefeller Center's famous ice-skating rink near their famous Christmas tree. Unfortunately, the tree was in the process of being put up while we were there, but Christmas decorations still captured the eye at every turn. There was no shortage of Christmas cheer in New York. After exploring for a bit, students then had time to eat before the Christmas Spectacular show. There are numerous restaurants for those that wanted to sit down and have a meal if they planned their time well, or for those that wanted to enjoy the city longer, there were many grab-and-go options. There was something for everyone from pizza to subs, to bowls to smoothies and shakes. There were no limits to ways to satisfy everyone's appetites.
Earlier in the day, there was a decided time that everyone would meet their chaperones and get ready to head to Radio City Music Hall to see the 2022 Christmas Spectacular. Everyone had to make sure that they held on to their ticket for entry, which they received on the bus ride over along with their purple pins that were worn by all. Everyone lined up outside Radio City Music Hall with their tickets ready to go. Once they were scanned, students' small bags were searched and everyone had to walk through a metal detector as a safety precaution. Once through, the grandiose hall was decorated with dazzling chandeliers, rich velvet carpeting, and impressive staircases. Snack and refreshment stands lined the hall on all levels. Students got popcorn, drinks, and cotton candy in preparation for the show. Upon entry, students were handed 3D glasses since there would be a segment that required them.
The show was amazing, and the storyline flowed beautifully. The stage transformed time and time again and moved in every which way throughout the show. The live orchestra moved up and down the stage, floors dropped, and even an ice-skating rink appeared for a short while and then magically vanished. The stage spun in a circle and help assist the famous Rockettes in their elaborate formations and dancing. The lighting and backdrops were immaculate with different settings even projecting on the walls beside the stage. There were many outfit changes and different furry creatures. There were even real animals brought on stage during certain acts, the most impressive being camels. The show ended with confetti filling the crowd overhead and a sign-off from Santa and the dancers. After the show, it was a bit chaotic making it down to the first level of the Hall and finding our groups. Once we did, we fought against the busy crowds of New York to make it back to the bus, which was a short walk away. Once everyone was situated and, in their seats, the buses were off, heading back to school. There were some hiccups along the way with traffic being extremely high and accidents halting our progress toward school. Th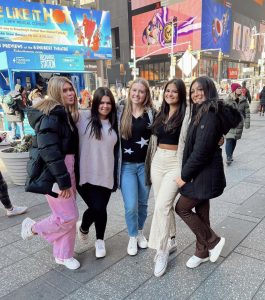 e ride was several hours long. The buses stopped at a rest stop in Danbury where people were able to go the bathroom and get dinner, a snack, or a drink, but it took a good chunk of time for everyone to receive their food and get back on the bus. Many brought blankets and changes of clothes to get comfy on the long ride back. Everyone finally made it back to school at around 9:00 pm. Students either drove home or were picked up by their parents.
The 2022-2023 class trip was the first one since Covid. It was a time to make lasting memories with friends and share an experience with them that you will never forget. It was a fun trip for all, and everyone had a great time exploring New York. Megan Doyle reflected on the trip saying, "I had the most amazing time during the class trip this year. It was so nice to be able to continue the tradition due to Covid causing its cancellation the past couple of years. This class trip will be one that I never forget, and I know that it is a day we will all look back on fondly. I will certainly hold these memories with me forever."
For more content, check out the Class of 2023's Instagram page to see their Class Trip vlog. Visit @shaclassof.2023