Dr. Henry C. Lee Visit
Dr. Henry C. Lee is a pioneer in the field of forensic science. During his career, he has worked on a number of famous cases. The most notable are the JonBenet Ramsey murder, O.J. Simpson and Laci Peterson cases, and the Helle Crafts woodch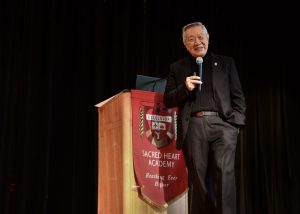 ipper murder. Dr. Lee also contributed to the Washington D.C. sniper case and post-9/11 forensic work investigations. Dr. Lee is considered by many to be the greatest forensic scientist in the world. His experience spans over 8,000 cases and earned him praise from law enforcement and the forensic field. Dr. Lee also famously founded the Henry C. Lee Institute of Forensic Science at the University of New Haven. Dr. Lee built the University's forensic science program into one of the nation's best and is a Professor Emeritus at the University of New Haven.
Dr. Lee visited Sacred Heart Academy on Friday, January 27th to talk about his impressive career in forensic science and kindly share his expertise with students and faculty. Dr. Lee was a master speaker. Students were captivated by his ease w
hen speaking and the natural humor woven throughout his presentation. He was very interactive with the students by asking questions and rewarding the audience with autographs and other mementos when questions were answered correctly.
Dr. Lee also met with the school's Honors Biotechnology Research Project class and presented them with a gift. The New Haven Register spoke with the class about their work regarding their gene research. Specifically, in sequencing MSH2 (MutS Homolog 2) in Bos Taurus. The class extracted MSH2 from calf thymus. MSH2 is a mismatch repair gene that plays a crucial role in repairing DNA damage and mutations. The class will present their research at the end of th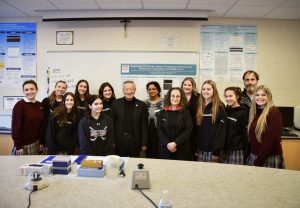 e year at Columbia University to a class of students and their professor. They are also planning on traveling to a conference to present their findings there as well, which they are currently in the process of selecting. The class's end goal is to submit their gene to GenBank and get MSH2 in Bos taurus published, similar to years past. The New Haven Register took statements from multiple students about their personal success and their experiences in Honors Biotech.
Dr. Lee's visit inspired many to want to follow in his footsteps and pursue a career in forensic science. He showed that anyone can achieve great things if they put in the hard work.