SHA vs Lyman Hall: The Basketball Game That was Heard Around the Nation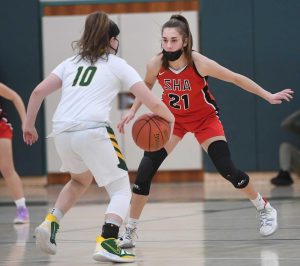 The now SCC champions played the school Lyman Hall twice during their incredible season. Despite the stellar accomplishment our SHA basketball team was able to achieve, the road to victory wasn't always a steady journey. SHA basketball faced backlash during their season when they first played Lyman Hall High School. The game ended in a score of 92-4 with SHA taking home the win. Unfortunately, people were unsettled with the margin of the win. SHA apologized and declared in a statement issued by Sister Sheila that the game doesn't "align with our values or philosophies." Lyman Hall Coach, Tom Lipka, urged there to be consequences for having "no mercy" against their, at the time, 0-5 team. Sacred Heart, in turn, suspended basketball coach Jason Kirck for one game. This did not deter SHA from winning, even without their remarkable coach. SHA won the close game against Hamden with the final score being 42-39, an amazing feat accomplished through their undeniable talent and determination. When the controversy occurred, it was also discussed that it is difficult to tell your second-string players to not score when given a chance to play, because that is their time to impress their coach. Along with negative comments, many people online chimed in and thought that playing your hardest is less insulting than letting the other team gain unearned points. All in all, it was a tough situation to maneuver for any coach. This score sparked a statewide debate about whether sportsmanship comes above playing your best. Also, if doing his job and winning the game, but at too large of a margin, is deserving of his suspension. Coach Lipika expressed that, "It's just difficult for the girls." But, is going easy on them worse than knowing they were beat fair and square? That is for you to decide.
Lyman Hall and SHA were scheduled to play against each other again in which coach Lipka hoped for a better outcome. SHA made it a priority to keep the score at a respectable gap this time around. SHA still came out on top with a score of 52-30, making sportsmanship a priority. Although this was a trying time for SHA's basketball team, making headlines everywhere, this made the team even stronger. The girls were closer than ever and played better than ever before, leading to their eventual, and well deserved, SCC championship win.