Scoring Goals and Reaching Them: SHA Soccer Makes History at State Championships!
A Season of Success
SHA Soccer flourished from its first games of the season, displayed in their impressive wins against schools such as Stratford (8-0), as well as their triumph against Lyman Hall (11-1). The team's success continued into the month of October as the athletes earned several more wins, including against Guilford (3-1) and Daniel Hand (5-1). The varsity team ended their regular season undefeated.
The SHA Varsity Soccer Team forged ahead to quarterfinals and defeated Cromwell with a score of 1-0. Earning the incredible opportunity to advance to semifinals. The team impressed the SHA community once again as they won their game against Notre Dame (Fairfield) with another score of 1-0.
When the soccer State Finals took place at Hartford's Dillon Stadium on November 20, SHA was thrilled to support their soccer team as they competed for the title of Class M State Champions against long-time rival, Mercy High School. This game was the first time SHA Soccer competed in State Championships: a historical event for the school. After an exhilarating, yet tense game that went into overtime, the score between Sacred Heart Academy and Mercy High School remained tied 0-0. SHA's Varsity Soccer Team obtained the title of State Co-Champions with Mercy. The team's immense hard work, skill, and persistence led to their chance to participate in this distinguished game – the game that brought Sacred Heart Academy to victory in this 2021 soccer season.
Team Captains' Thoughts
This season is undoubtedly an unforgettable one for SHA – most especially for the soccer athletes that contributed to this remarkable accomplishment. The soccer Team Captains, seniors Ella Guth, Ava King, and Kyla King shared their thoughts about this historic soccer season, including what they most admired about this group and what they have learned from their years on such an inspiring team.
A Team to be Admired
Ella Guth describes how she greatly appreciates the dedication of the soccer team's athletes. "What made us so successful this season was that we all, especially the seniors, knew that we were capable of doing big things, and we wanted to show everyone that. Since the start of the season, we all said we wanted to make history, and it took every player to achieve that. From freshmen to seniors, everyone played such an important role in the success of our season, and I couldn't have asked for a better team," she reflects.
Ava King expressed that she admired the enthusiasm and eagerness of the team. She says, "We played every game with passion and didn't stop until the final whistle blew. Something we never let happen was allowing another team to outwork us." As the rest of the SHA community can agree with, Ava continues, "The heart we played with clearly translated to our success on the field, as we had a historical season to say the least." Ava describes how the seniors "especially wanted to leave SHA with the best season we could possibly make it." She thanks her coaches, Everson Maciel and Jessica Hauser, with gratitude for creating such a memorable environment for the team's athletes. "They reminded us to not take any games for granted, to enjoy every moment we had on the field, and to play for each other. I am grateful to play for a team with such hardworking and passionate players," Ava exclaims.
Kyla King was grateful for the team's competitive and hardworking environment. She states, "There was such a strong desire to win from the entire team and coaches. We knew that we had the potential to do well in the fall season, but we also knew that it would not be easy, and we needed to put in the hard work to achieve it. Our coaches Everson and Jess are extremely competitive and inspired all the girls to have that mentality as well. Every practice and game, the team came with the mentality that we would work as hard as we could and improve." Kyla describes how the team environment led each athlete to challenge themselves and the rest of the team to play to their full capabilities. "It is extremely difficult to have the strongest desire to win, to play at your best, and compete with everything you have one hundred percent of the time, but I think that is what makes SHA soccer so special. We were able to do that because every single player on the team held each other to high standards and pushed/inspired each other. We were on the same page from the start of the season to the end, which allowed us to achieve our goal of winning states," Kyla says.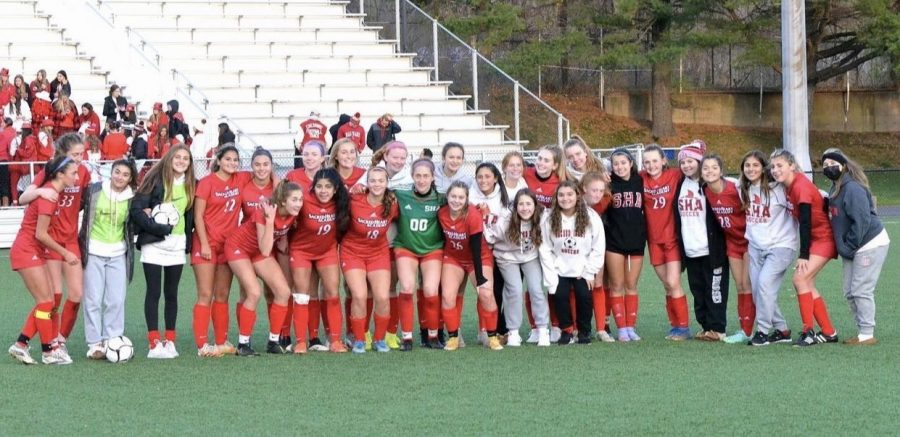 Valuable Lessons Learned
Ella emphasized how SHA soccer taught her to never give up. "Since I was a freshman, we have always had talented players on the team, but our results never showed that. Many teams underestimated us and thought playing us would be an easy game until this year. We really surprised so many teams with how well we worked together on the field. If the seniors lost hope and gave up on the team, we never would have achieved all that we did this season – our last season. We are all so proud of each other and will remember this season and all of SHA soccer for the rest of our lives," she elaborates.
Ava recounts, "aside from the many technical and tactical lessons I've learned throughout my time on the SHA soccer team, the biggest lesson I learned from this experience is the importance of having a closely bonded team. As captains, Ella, Kyla, and I really strived to create an inclusive environment so that every player, from freshmen to seniors, felt included. We held many team bonding activities such as post-game parties at the beach, pizza and pasta parties, and team runs. I feel this closeness contributed to our team chemistry, created a positive environment, and increased our desire to play hard for each other each game."
Kyla learned about the significance of "a positive culture and good chemistry on the team." Although SHA athletes put in an extensive amount of hard work into their own improvement, Kyla reminds us, "we were able to be consistently successful this season because we were having fun!" She goes on to say, "throughout my time playing for SHA, I have played on teams that were skilled; however, we have never had this incredibly positive mentality that our coaches, Everson and Jess, brought to the team this year. Because of them, I realized that soccer is such a mental game and getting the team in the right headspace and creating a good culture is so important. They encouraged us to enjoy the game, be creative, and have fun when we played. The fall soccer season is packed with games and practices and can feel especially long if you make it far into post season, but this season, when the team reached the end, we were still having so much fun and had more to give! We could have burnt out or lost our desire to win, but we didn't. The environment on the team was electric and positive which gave us energy to win and put us all on the same page. It fueled us when we needed it most when we reached state competition."
Congratulations from the SHA Community
We commend our soccer athletes, as well as Coaches Maciel and Hauser, for such an outstanding season – a season filled with not only tremendous success, but also full of resilience, dedication, and strong sportsmanship. SHA Soccer positively represented our school in their practices and games, showing that SHA athletes are taught to perform not just with skill, but with respect and consideration for all teams they meet. This achievement certainly will leave a mark of pride and accomplishment at SHA – a mark that will never fade away.
View Comments(1)