Giving Back Beliefs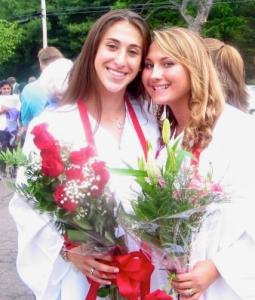 This past August, Ms. Destito joined Sacred Heart Academy's faculty as a vibrant, young Theology teacher. After as many as six changes in her major, she finally felt she knew exactly what she was being called to teach. "I first had the idea to study theology and become a theology teacher during my time teaching English in Detroit Public Schools," she said. After finding that she was most passionate about the interior lives of her students and acknowledging her ultimate desire to help other students grow as young men and women of faith, Ms. Destito finally settled down to teach about Catholicism. This was no surprise to those who knew her when she attended high school at Sacred Heart; her friends would predict that she would be "the next Mrs. Mazz (Mazzariello)," but Ms. Destito said that she never really paid much attention to them. She explained, "I just knew I loved what I was learning in those classes." Mrs. Mazzariello definitely had a lot to do with her love for religion. Ms. Destito recalled, "I remember Mrs. Mazzariello's thoughtful and compassionate comments and feeling God's unconditional love reflected through her beautiful heart…God was undoubtedly present and at work in the classroom."
Now a colleague of some of her own former teachers, such as Mrs. Mazzariello, Ms. Destito said, "At first it was an interesting adjustment to be colleagues with some of my former teachers, but Sacred Heart still feels so very much like home. I am so blessed to work at the school that had such a tremendous influence on me and to now have the opportunity, with God's help, to hopefully have the same positive impact on others." She continues to cherish all she learned and took away from her years at SHA. "While I was blessed with a strong faith foundation, SHA absolutely helped continue to nurture my faith and my relationship with God."
Although her faith was strengthened and formed greatly because of SHA, Ms. Destito did not only learn about the faith from her high school experiences. "I was raised in a devout Catholic home. My Mom was and still is my spiritual role model. Though not officially canonized by the Church, she is a saint in my eyes." Her tremendous faith and earnestness for sharing her beliefs did start at home, where her mother taught her how to pray and her family regularly introduced her to Catholic beliefs at Sunday Mass and Holy Day services. Ms. Destito acknowledged that she learned mostly from observing her mother's devotion to God, prayer, and faith: "Although I would not admit it growing up, deep down I wanted the strength of faith she had."
This remarkable woman had grown up relying on God to help her through any difficult decisions, which definitely got her to where she is today. She said that the day she was signing employment papers to work for an apostolate of the Catholic Church out of Norwalk, CT, Sr. Maureen contacted her about becoming a theology teacher here at Sacred Heart! She shared, "In my heart I knew immediately that God was calling me to return to Sacred Heart."
When asked to give some advice to those starting the overwhelming process of choosing a career path, Ms. Destito presented these inspiring words:
I would offer two verses from Scripture that have been especially helpful for me in my discernment processes. In Jeremiah 29:11 the prophet reminds us, "'For I know the plans I have for you,' declares the Lord, 'plans to prosper you and not to harm you, plans to give you hope and a future'." Proverbs 3:5-6 states, "Trust in the Lord with all your heart and lean not on your own understanding; in all your ways acknowledge Him, and He will make straight your paths." Always remember that God loves you with an infinite love beyond all comprehension. You are His beloved daughter and He desires only what is best for you. He desires your happiness and your holiness and whatever will help you attain eternal life with Him in heaven. Trust that He is always at work for your good. Bring any confusion or problem or decision to God in prayer. Speak to Him from the heart and then listen for His answer. He will hear you and answer you so make sure you pay attention!
Ms. Destito is clearly a strong, faith-filled teacher who yearns to instill in her students the same powerful beliefs she was taught at her Alma Mater. Just as Ms. Destito advised, remember to listen to God because He will guide you in all that you do.