Prom: A Night to Remember
The night of April 29th was junior/senior prom at the Aqua Turf in Plantsville. On that Friday, juniors and seniors were excused from school to get ready for the special night. Many spent the day getting their nails done, doing their own makeup or getting it professionally done, and styling their hair. Everyone looked absolutely stunning, and all the dresses were beautiful. There was a multitude of colors and styles. Some wore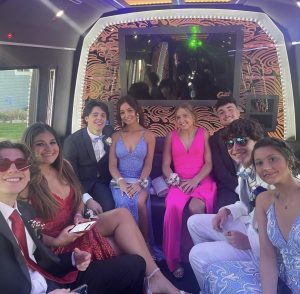 tight dresses; some had a slit. Many sparkled from intricate beading or sequins, and others were one solid color. People were really able to express themselves and their style through their dress and everyone's personalities really shone through.
There were many different modes of transportation for the night. Some took their cars, big groups took party buses, and medium sized groups drove up in limos. Once everyone arrived by 7 pm, everyone was able to talk to friends and get settled at their table. Many took pictures outside with the fountain along with many inside by the windows and in the entry way. Throug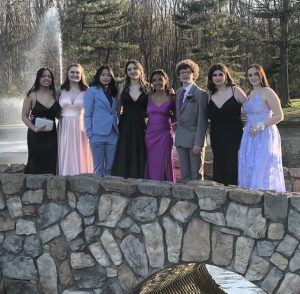 hout the night, many took pictures at the photobooth with props to make it a bit more fun. Once everyone was seated, there was water and soda on every table. There was also a smoothie station where everyone in attendance could take one at any time during the night. First, salads were served, and bread was given to each table. The main course was buffet style, and everyone was called up by table. There was a fish and chicken option for protein. Everyone enjoyed their meals together and got ready to dance. Many brought socks or sneakers to making dancing more comfortable and you could visibly see at almost every table shoes placed underneath seats.
Whether you came with a date or spent the night with friends, everyone had a great time on the dance floor. Once the DJ started playing the music, the dance floor was completely filled to the brim. Multiple times dance circles were formed in the middle of the floor where people were able to show off their moves. Further into the night, there was also a birthday tribute to Mr. Marcello who worked tirelessly to help plan the amazing night. Everyone erupted into song and sang "Happy Birthday", Mr. Marcello even made a feature in the dance circle for a time.
At 10:30, Prom was over, and everyone said their goodbyes. Even though the night was over, it was a nigh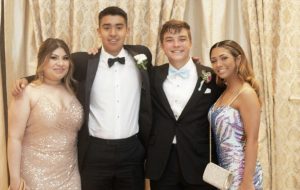 t that will forever be remembered. Although it was the seniors last time, they will have memories that will last a lifetime. Class of 2023's Kam Parlee recalled, "It was an incredible night with friends that I will never forget."