Spirit Week 2022!
Spirit Week is one week that is eagerly looked forward to at Sacred Heart Academy. While other schools simply just make it fun for the students, the Sacred Heart student council makes all the effort into making sure the students have a chance to not only have fun, but to also be competitive with other classes. Junior, Megan Rosario, explains how much this week means to a SHA student, saying, "I enjoy spirit week because it gives a chance to step out of class during school and have fun with our friends." The idea of SHA spirit week is: Each day we have a theme, and every class pick one thing for each day to dress up as, then at the end of the day we have judges who pick the winner based off of who followed the theme better, which class was more cohesive, and finally who looked the best! This is also the same Judging that goes into the café decorations, which is when each class decorates their part of the café in theme with their first look of the week. This along with the daily activity we play amongst the four classes really helps get everyone excited. So, what were themes and activities this year?  
Monday, we start ou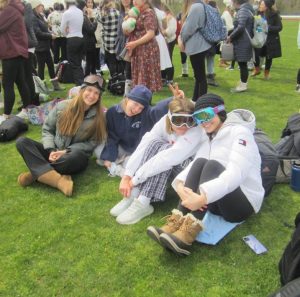 t with the dress up theme, Seasons. The freshman were fall, and decided to dive fully into the Autumn Girl aesthetic, some bringing in hot coffees to get the idea of a Pumpkin Spice alive again as we move into Spring, which is what the sophomores dressed up as! The sophomores changed it up a bit and decided to dress up as springs most anticipated holiday, Easter! Many wearing bunny ears, were able to get us even more excited for the upcoming spring season. Juniors tapped into winter with heavy coats and ski goggles, and finally seniors were summer with a total teen beach movie vibe! Some took total control of this theme wearing bathing suit tops over T shirts, and even flip flops! The winner for Monday's dress up was the Juniors, their first win of the week! Then we moved onto Monday's activity, which was a relay race with each of the classes going against each other. Classes got their best runners for the challenge, but only one winner was able to come out of                                                                                      it! The seniors got their first activity win of the week.  
Tuesday was another creative theme, which was Meme Day! Each class picked their favorite memes to dress up as for this day. The Freshmen decided to go recent with 2019s favorite VSCO girls, wearing shell necklaces, socks with sandals, and carrying around their hydro flasks to really seal in their look. Sophomores went for a classic which was the "She doesn't even go here!" from mean girls. Juniors also picked a classic in the iconic photo of The Rock with his fanny pack and turtleneck, some even stuffing their shirts with fake muscles to get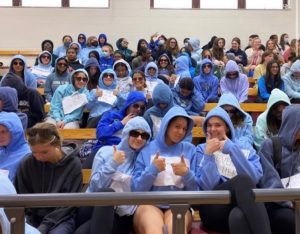 a WWE type figure, similar to The Rock. Finally, the seniors came in as southern Bama Rush girls, which was the most unique meme out of the classes. The winner though, was the sophomores with their classic Mean Girls look, which some could guess was an obvious win. The activity was a Riff Off based on the game that was played in 2015 film, Pitch Perfect. The rules are, once Stuco gives each group a word, you have 1 minute and 30 seconds to think of as many songs with that word! It was a tough battle, but the Freshmen ended up taking the win!  
Wednesday's dress up theme was states! The Freshmen took a unique approach to their state, California, and they dressed up as celebrities! The Sophomores also had fun with their state, Hawaii, and wore leis and bringing in Ukulele's! The Juniors busted out their Disney attire for Florida, and finally the Seniors, yet again, busted out all of the southern attire for Texas! While it was definitely close, the winner of this dress up was the Seniors. Moving onto Wednesday's activity, Water balloon dodge ball! This is one of the most fun activities and is the most competitive too. The rules are basic, just like regular dodge ball, but instead it is played with water balloons, and you are limited to a small circle of space so people cannot jump in and out of the game! With each round going long, each class not wanting to give up, the Juniors were the winners!  
Fina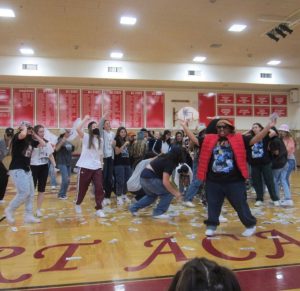 lly, one of the most looked forward to days, our theme is Decades, and our activity is Dance Crew! Each class works hard each other day of the week to prepare for dance crew, and their hard work definitely paid off! The Freshman took 80s to a whole new level with their dress up, wearing everything neon and channeling dirty dancing in their dance crew dance, making everyone stunned to say the least. The Sophomores channeled the 70s for their dress up and used some of the Bee Gees hits like Stayin' Alive and More Than a Woman in their dance, getting everyone excited! The Juniors rocked the 2000s Paris Hilton look, using that to their advantage with their dance, and finally the seniors wore big clothing and band tees for the 90s, channeling multiple 90s classics like Friday. To watch all of the Dance Crew performances, go on the Shark Tank Instagram, but according to our judges, the Seniors took their win! As for the dress up, which was obviously a tough decision, the Freshmen took their rightfully deserved win. 
Looking at spirit week as a whole, it is very obvious that this is something that creates so many fond memories for the Sacred Heart Community, and the seniors cherish their last one to the fullest as they reflect on what their future in college may bring. Senior Ava Debrizzi gave some thoughts on this, saying, "Spirit week gives students the opportunity to come together as a class, and the student population as a whole the opportunity to form a sense of unity. The school spirit during spirit week is a big part of what makes SHA such a unique place and allows the sisterhood to live on". Knowing how much students study and stress about tests and college, spirit week gives students a chance to really bask in their community and how much fun we can have if we let ourselves. We can work hard, but we can also have fun, and it's a blessing that Sacred Heart creates such an environment where we can have fun and still thrive academically.