Spring/Summer 2022 Fashion Predictions: Are We Going Back in Time?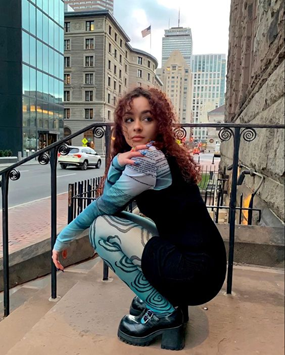 As we move into March of 2022, we get a better idea of the teen fashion trends that will rise for this year's spring and summer seasons, and how they compare to what we might've seen last year. With Covid-19 very slowly going into remission, we will be seeing a lot more outside activities which includes a lot of fun fashion trends. 
Gen-Z are embracing the "I was born in the wrong decade" attitude through fashion, and it's safe to say decade centered trends are going to have a lot of influence on the majority of trends we may see this year. 60s and 70s fashion has seen to be having a huge resurgence in recent months. With the new documentary, The Beatles: Get Back, and bands like The Rolling Stones getting slightly more recognition by younger generations since the pandemic, the fashion of the times has made its mark with Gen Z. For example, rock band Greta Van Fleet, who is inspired by the legendary Led Zeppelin, dresses in a heavily hippie influenced style.
Women's fashion of the late 60s and early 70s is described by many as rebellious, for outfits were much more fitted/short versus the very conservative styles of the late 50s/early 60s. Bright colors with statement pieces, leather vests, penny lane coats, flared jeans and colored/patterned tights have been a very popular look as we've moved on into 2022, and I can predict that as we move into the spring/summer months, a more hippie like inspired version of modern fashion will be seen a lot more often from teens and young adults.  
Going into March, the weather will finally become warmer after a couple months of many dry and cold days. Because of this, we can predict a lot of lightweight items being worn as the "statement pieces" of an outfit! The first thing we may think of when we say "Lightweight Items" may be sundresses and flowy maxi skirts, but have you thought of nightgowns? Taking inspiration from the 90s grunge era, women of the subculture wore satin nightgowns in more casual instances to make more "girly" fashion, edgy. For example, grunge band Hole has been coined as the start of this edgy-girly style that is perfect for nightlife but is also comfortable enough to play a rock gig in! Now, in 2022, it's seen more as a comfortable but quick outfit to throw on to hang out with friends. People pair these satin pieces by layering either a leather jacket, or a cardigan on top to be suitable for the unpredictable spring weather. 
Finally, as we see many styles and items that might've been popular many years ago become a part of modern fashion, we also see things that people might be confused about. For example, 80s leg warmers! Past generations wouldn't have ever guessed that leg warmers, out of the many flamboyant items of that decade, would get a comeback, but within Gen-Z, leg warmers are seen as a great layering item to pair with tights, boots, and sneakers, to make it more casual as opposed to a part of fitness attire. People dress them up with skirts and dresses to add shape to their outfit, and as an alternative to socks with sneakers, but it's also convenient for those colder spring nights.  
As this year continues, new fashion trends will emerge, and its obvious this year has been the year of true 20th century nostalgia!