Class of 2021 Top 5
As the year comes to a close, another group of talented and ambitious SHA girls are passing through the halls for one last time. Despite the many challenges and changes faced throughout their high school years, Sacred Heart Academy's Class of 2021 has come out on the other side as victorious and ready for the next chapter in their lives. The Class of 2021 is an extremely resilient and talented class, with amazing students, artists, musicians, actors, scientists, mathematicians, engineers, and most of all amazing people! Even though they've faced almost half of their high school experience altered from COVID-19, in loosing certain traditions, facing a completely different college application process, and so much more, they've stayed strong through it all. The Class of 2021 always inspired the school with their intense school spirit, willingness to help, and their resilient spirit, certainly leaving their mark on Sacred Heart.
The top of five this class represents some of the best qualities in this amazing group of students. Each of them has their own distinct talents, interests, and skills, but are all Excelsior in their own special ways. These five members of the class of 2021 are Valedictorian Adjoa Yeboa, Salutatorian Shabrang Montazer, 3rd ranking seniors Gabrielle Germain and Cathryn Lamour, and 4th ranking senior Jace Ijeh.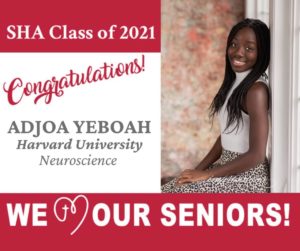 Valedictorian, Adjoa Yeboa looks back on her time at SHA as a big adventure, saying, "There are ups and downs in any adventure, and sometimes you don't know exactly what's going to happen, but at the end you look back and miss it because it was all super fun. For me, that's what SHA was like. " At SHA Adjoa was involved in SHAdes of SHA being on their Executive Board, and president her senior year, a member of NHS, SNHS, and French NHS, played soccer all four years, and took an active part in SHA's Anti-Racism Outreach this past fall. Reflecting on her experiences Adjoa encourages future students to step out of their comfort zones. In her time here Adjoa was able to find her passions and some great friends through trying new things, such as getting involved in soccer after not playing for a few years, stepping up in SHAdes SHA to become an exec board officer even though she never expected it, and even taking a chance with a biotech class which helped her find her passion in research, something she wants to pursue even in college. She says to new students, "when you get to SHA, just open yourself up to new things, and you might be surprised at what happens."
Adjoa is committed to attending Harvard University this coming fall with plans to study neuroscience with a minor in philosophy on pre-med track. She's hoping to get involved with research such as in neuroscience, genetics, and psychology, and to take advantage of the opportunities in the Cambridge/ Boston area. Ultimately, Adjoa hopes to attend medical school, but she will certainly miss SHA as she moves through her higher education and forward into her life. Adjoa says, "I'll definitely miss the Spirit Week and SHA's epic school spirit in general…School spirit is really big at SHA and I'm definitely going to miss everything about it when I leave." And although she'll miss the spirit here, Adjoa has gotten to learn a lot from her time in high school, especially about taking a step back and relieving unnecessary stress when striving for success and achievement.
Overall, Adjoa is looking forward to starting this new chapter in her life. Taking inspiration from all those around her to motivate her to work harder and achieve her dreams, especially parents who are doctors themselves, Adjoa has achieved great success, and will continue to work succeed as she moves forward. Leaving SHA, Adjoa wants the school to remember her, "as someone that anyone could talk to. Even if we weren't best friends, I think being remembered as a nice person"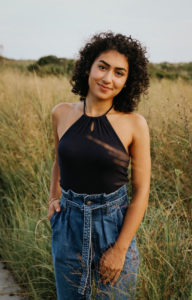 Shabrang Montazer, Class of 2021 Salutatorian, has lived by the quote, "You only need to prove yourself to yourself, not to others". She believes in taking everything step by step, and the importance of self-confidence, saying, "because when you feel comfortable in your own body and what your capable of that reflected in your work, actions, and words." All of these teachings and qualities have helped Shabrang in all her activities in and out of SHA, and achieving success throughout her high school career, and her life. At SHA, Shabrang was involved with STUCO, being her class president for her sophomore, junior, and senior years. She was also an active member of Peer Connection and Key Club. In Athletics, Shabrang played SHA soccer her freshman and sophomore year, and did outdoor track her freshman, sophomore, and junior years. She has also received various accolades such as receiving the bronze and silver medals due to her performance in the National Spanish Exams, receiving the Rensselaer Book Award, the Scholar Leader Award sponsored by the SCC, and being CT Science Fair State Finalist her freshman year. Outside of SHA, Shabrang works at Sorrento's Brick Oven Pizza, for over the past two years.
Shabrang is planning on attending the University of Connecticut Storrs this upcoming fall, with hopes to major in computer science. She wants to join a sorority in college to continue the sense of sisterhood and strong bonds she got experience at Sacred Heart. In addition, Shabrang has a strong passion for the environment.  She envisions herself using her knowledge with data science to eventually work to move the planet towards renewable energy sources, and to continue this journey she intends to join an environmental club at UCONN. Shabrang is going to continue building upon all her skills and goals started here at SHA as she moves into the next chapter of her life. Through Sacred Heart Shabrang was able to, "Know what to expect from others and myself, learned what type of leader I am, what type friend, student, and sister I am."
As Shabrang begins this new part of her life, she's reflected on all the inspirations and help that has helped her to succeed. Her mom has been her strongest motivator, and her parents have always helped her grow through her own experiences to become a better person. Her sister and have teachers have served a big role as well. Especially her fourth grade teacher from Wintergreen School, Mrs. Virgo who, "Introduced me (Shabrang) what its like to really push yourself in academic, how frustrating it can be to not understand what you're doing, always pushed me forward." Through her time here Shabrang has pushed others to do their best and serve as a motivating support for the schoolwide community, and as she leaves wants to remembered here at SHA for, "Diligence – not just in academic, being committed to my friendships, leadership roles, academic pursuits, and to myself."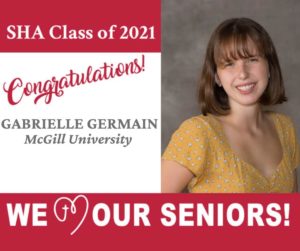 Gabrielle Germain, one of the third-ranking seniors, is a fan of the movie "Robots", and since her childhood has tried to embody the moto of the movie, "see a need, fill a need". Gabrielle says she tries, "to help out and do what I can to make positive changes in the world around me, no matter how big or small. " And this kindhearted attitude comes into everything Gabrielle does, including her involvement in and out of SHA. At SHA Gabrielle would act in the fall musical and play tennis in the spring, while being a member of key club, drama guild, liturgy choir, show choir, Earth club, Chinese club, and madrigal choir. She even served as a board member of key club, president of Chinese Club, president of Model UN, and president/ co-founder of Earth club. As a part of drama guild Gabrielle co-wrote the school play with Cecilia Donderful Amos, and won the state monologue competition her junior year. She was also a part of various honor societies including the Chinese National Honor Society, Science National Honor Society, and National Honor Society. Gabrielle received the Xerox Award for Innovation and Innovation Technology in 2020. Outside of Sacred Heart Gabrielle has done a lot of work with the New Haven Climate Movement and the New Haven Leon Sister City project. As a part of these organizations Gabrielle was able to organize and attend various protests, chaired various committees, and had two internships, all while developing her public speaking and leadership skills working for a cause she is extremely passionate about.
To continue her passion with the environment but also discover more about herself, Gabrielle will be attending McGill University in Montreal, Canada next fall with a plan to major in political science. After college she hopes to go into nonprofit work or environmental law. Her various inspirations throughout her time at SHA have influenced Gabrielle into taking the path she is today. Gabrielle says, "My Chinese teacher, 谭老师 (Mrs. Tan), has been there for me all four years. She helped shape me into the student and person I am today. Mrs. M also gave me deeper appreciation for music and the arts in general, and I am eternally grateful for her endless support. Mr. Marino built my interest in history and government, which really influenced my decision to major in poli sci."
Gabrielle has gotten to use her time in high school to not only explore her passions, but also learn various life lessons and skills. To future students, Gabrielle says, "You need to work hard but also enjoy your time here too. I know it's cliché, but high school really does fly by, so just make sure you're there for the ride." She's also learned how to become a better student in her time here.  Gabrielle reflects on how she is a major procrastinator and perfectionist which led to various late nights and difficulties, but slowly and surely she's working to change her habits to streamline her working process. All in all, as Gabrielle moves into the next phase of her life, she wants SHA to remember her by her, "compassion. I try to be as open, kind, and understanding as possible in everything I do, and I hope those are actions that outlast me."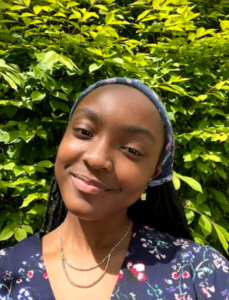 Third in her class, Cathryn Lamour, has gotten the opportunity to not only succeed academically but learn more about herself as she made her way through Sacred Heart. Cathryn says, "The biggest difficulty I faced was being lost over what I wanted to study and be in the future. I overcame it by taking various classes and experimenting in summer camps". She able to tackle this difficulty through her activities in and out of SHA, in addition to her academic and summer endeavors. Cathryn is an avid reader, writes poetry, loves watching superhero movies and baking. Cathryn also takes an active role in her community as a volunteer and has spent over 200 hours serving others. She has also received various awards and recognitions for her talents including the Path of Success Student of Excellence (P.O.S.S.E) Bronze Service Award, St. Michael's College Book Award (for academic achievement and social conscience), L.A.W. Camp Finalist and Winning Team, National French Award National Honors Society Induction, M3 Challenge Second Level School Score Top 50 (and then serving as co-captain her senior year), Path of Success Student of Excellence (P.O.S.S.E.) Certificate of Excellence. Cathryn has also founded the Modern Political Issues club at SHA.
Cathryn is committed to expand her interest in appellate law/ civil rights litigation at Cornell University beginning in the upcoming fall. However, SHA will always remain close to her heart as says it is "irreplaceable and unforgettable". Some of Cathryn's favorite parts of SHA have been the intense school spirit and unique traditions, and of course the teachers. Cathryn reflects on how, "Mrs. Gniadek always pushed me to try harder and never give up during my math classes with her." Leading her to share how her success as a student was due to determination, passion, and responsibility.
Cathryn is extremely excited to exploring the world, particularly in Ithaca where she's going to school, meeting new people and opportunities, ready for what is next. In fact she recommends to new students to, "Take risks and try everything! Embrace change and growth". And most importantly, she wants to remembered here at SHA for being dependable and great friends, qualities she will keep with her throughout her life.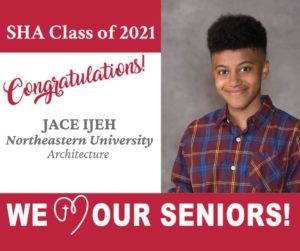 Fourth in the class of 2021, Jace Ijeh is star not only in classroom but on the field and in the community. Jace is a hard worker who is loyal and follows through in all commitments. While at SHA, Jace has played on the varsity soccer team all four years, being co-captain this past season, and making the All-SCC state three times, All-State team once, and received the scholar athlete award in the fall. Jace also received the Harvard book award in last year, and won an honorable mention and bronze medal in the National Spanish Exams. Jace even served as show choir manager at SHA. Jace wants to tell future SHA students that, "it's okay to fail, everyone gets knocked down a couple times, you just gotta get up and keep trying."
Jace will be attending Northeastern University in Massachusetts in the fall, planning to major in architecture. Excited to be in the city and meet new people, making new strong bonds and connections, Jace will not forget the bonds made at SHA as her friends. Jace sees the class of 2021 as "resilient" in a year that has been "a whirlwind and hectic", but their time at SHA in  "unforgettable."
Going through SHA, Jace has gotten to learn so much, especially about perseverance. When reflecting on the biggest difficulty over the past four years, Jace spoke about Spanish class and how to overcame the struggles in the class since saying, "  I stayed on top it, and studied as much as I could to be successful." Jace will carry on these lessons and skills into  college and beyond, and while remembering so much from SHA, Jace wants SHA to be remembered for kindness, for being a nice person.
Each of these members of the Top 5 represent the greatest qualities present in their grade. They're all extremely talented and successful, and as a SHA community we are confident that they will go on to amazing things. We wish the entire Class of 2021 congratulations and good luck for all the success and wonderful things to come!