Stocking Drive 2020: A New Spin on a Timeless SHA Tradition
As Christmas approaches, one of the events that most students look forward to is the annual Christmas Stocking Drive. The Stocking Drive which is organized by STUCO is one of SHA's most beloved traditions and a great way to give back during the holiday season.
Each year, SHA works with different schools across Connecticut to give children a wonderful Christmas experience. At the start of December, STUCO sends out a list of anonymous students to different homerooms who would be given a stocking. Students then are able to sign up to give a stocking or more to a child in need. The stocking is usually filled with common toys or items that a child might wish to receive for Christmas. This ranges from action figures, dolls, notebooks, plastic jewelry, or even toy cars that can fit in a stocking.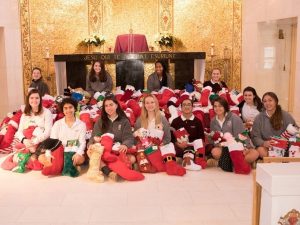 The stocking drives usually extends from early December up until the last week before Christmas break. To end the stocking drive, Campus Ministry holds a prayer service. All of the students come together in the large chapel to celebrate the start of Christmas, togetherness, and love for one another. During the Mass, each student who made a stocking for a child brings them up to the altar where STUCO collects them. They are then given to the children at various Catholic schools.
This tradition began in the 1970s as a way to give back in the Catholic community and is still cherished by many to this day. This drive is a wonderful way to appreciate what you have and learn the true meaning of the holiday season: giving. This year, with the coronavirus in the air, the stocking drive will still go on but may look a little different.
The SHA administration and Student Council had been working hard to keep this tradition alive, even with all the uncertainty this year. The 2020 Stocking Drive looks a little different, starting with its new name for the year: Stocking Up! Rather than having each individual student make a personalized stocking for one of the kids, the schools have made their own Amazon wish lists and SHA students, teachers, parents, and friends can go through Amazon and choose something off the wish list to gift to the schools/ kids.
The schools/groups that we will be gifting to this year are the All Saints Academy and Apostle Immigration Services. All Saints Academy is a merging of three Catholic Schools within New Haven, it includes: Catholic Academy of New Haven, St. Bernadette School, and St. Francis and St. Rose of Lima School. Apostle Immigration Services is an organization that works with immigrants in the Greater New Haven area in order to help them with attaining greencards, citizenship, gaining work authorization, education, and more. It is ran through the Apostles of the Sacred Heart of Jesus, with Sr. Mary Ellen being the executive director.
Stocking Up will run from December 10th to December 24th. In order to spread the news and raise excitement for the event, STUCO has worked on some promotional materials for the SHA social media. Executive Board STUCO made a special kickoff video for the event that was livestreamed December 10 and is still available on the SHA Instagram. The video had some special appearances by the new SHA puppy, Shadow as well! The class STUCOs are also working hard to spread the information about the event to their own classes. Even though, the Stocking Drive does not look exactly like years past, there is still excitement and support for the event all throughout our school community. Junior, Lola Brooks says, "I think it's a great way to continue doing something good while being safe."