September Spirit Day: Chalk Fest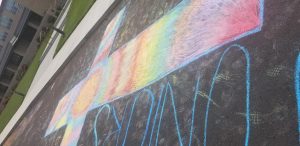 Just like everything else this year, mini spirit week was also switched up to fit the new school year. Rather than having a week of little activities during break, STUCO decided to keep the festivities going all throughout the school year by having "mini spirit days" each month. The first of these days was in September, and the focus was a schoolwide chalk fest on September 17, 2020. Students could come out and color the driveway in front of school with bright colors, beautiful drawings, and exciting doodles! The driveway was sectioned off so that there was a freshman section, sophomore section, junior section, senior section, and faculty section. Students were able to come and chalk during their study periods, lunch, or breaktimes. They could bring their own chalk or use the STUCO provided pieces. Junior, Emerson Forbes enjoyed how "The chalk day brought our Sacred Heart community together again. We got to express ourselves through our artwork and show our SHA spirit. I also enjoyed being together with my friends in a safe environment because it made this crazy school year feel normal again by having something to look forward to." The event was an exciting and refreshing way to bring together the school while not needing to be physically close by. In addition, during the chalk fest girls were able to wear t-shirts of their class colors (and for freshman their class shirts) further bringing together our class and school unity! By the end of the day, the driveway was a stunning mural representing each member of our school body.
The chalk event brought joy and excitement to each corner of our school. Sophomore, Ava Guidet, who is also on the STUCO Executive Board referred to the spirit day as, "..a wonderful way for students to interact creatively in a safe and socially distanced environment." The day surely kept everyone safe and excited! Junior, Sophie Morvan looks back on the day as, "an enjoyable activity that let students show off their creativity, and showed the strong community SHA has." Sophie also liked how the mural was visible to all as they were driving up the driveway to our school! The day was a great time for everyone in school, but for our distance-learner friends, it was a little harder to be a part of the festivities. As this was just the first of many spirit days to come, STUCO is working on making these days as inclusive as possible for everyone in our school community!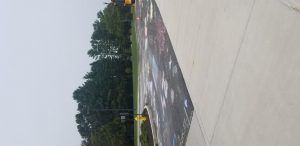 With many more school-wide spirit days and activities on the way, the chalk fest was a spectacular way to kick off our new school year with some color, fun, and a lot of spirit! STUCO Executive Board President, Clare McCurley's thoughts on the event are: "Our newest STUCO event where we chalked the driveway was a huge success this year and STUCO was so excited to see all the girls get outside and use their artistic ability to decorate our driveway. We have some seriously talented girls here at SHA and I'm so glad we got to showcase their talent and creativity." While this year's mini spirit week looked a little different, the excitement and spirit were certainly not missing. The chalk fest helped bring our school together in this new school year and allowed each class to leave their mark upon Sacred Heart Academy, ultimately creating a beautiful mural that truly represents the SHA community!