Class of 2020: Making History
It is without a doubt that this academic school year came with unexpected turns no one could have predicted. In an emotional rollercoaster, the Class of 2020 has experienced both a unique and extremely difficult senior year. Missing out on several of the typical traditions of one's final semester, our graduating class has surely gone through an array of emotions from fear and sadness to anger. However, as the student body began to adjust to the new climate of online school and social distancing, an incredible sense of community, leadership, and passion emerged from the senior class. Adapting to the situation at hand, the Class of 2020 put their creativity, persistence, graciousness, and contagious spirit to work. Making history, the senior class experienced the school's first drive-through graduation, at-home AP's, at-home Spirit Week, and much more. If there is one thing the Class of 2020 has made clear, it is that they will not be forgotten!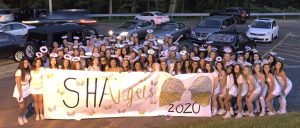 Sacred Heart is proud to be sending off five exceptional members of its senior class. Despite such unprecedented times, these extraordinary young women have finished their four years at SHA in the top 5%. Embracing all of the academy's core values, and achieving remarkable feats, are Maria Papademetris, Adalyn Schommer, Alyssa Harduby, Allison Rozear, and Ashley Plochocki.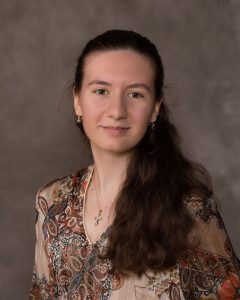 As Class of 2020's valedictorian Maria Papademetris sets off for her studies at Yale University, she encourages future students to "Be willing to ask for help when you need it." Instrumental to Maria's success was her desire to be consistently challenged and finding connections between various subjects of her studies. Maria certainly left her mark during her time at SHA as she was selected as a Connecticut Governor's Scholar, took first place in a regional 3D printing challenge, and served as president of Mu Alpha Theta. Maria also helped run Math League and was awarded a National Merit scholarship while also participating in several different choirs at the academy. At the beginning of her high school career, she found  that it can be easy to get caught up in competing with classmates but learned that it is far more effective to focus on your individual strengths or interests in order to succeed. Maria advises students to befriend those with similar and differing interests, emphasizing the strong sense of community SHA offers. She hopes to delve deeper into her studies in chemistry and philosophy, and plans on becoming a chemical or environmental engineer. Most importantly, Maria hopes to continue to be challenged. "This year has been a lot of fun but a wild ride; my class is closer than ever," says the accomplished graduate.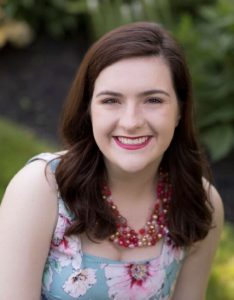 2020's graduating class honors Salutatorian, Adalyn Schommer, as she urges future students to "Live in the moment!" while reflecting on her past four years at Sacred Heart. Adalyn made it clear that although the four years go by fast, she never failed to take advantage of her time in order to remain involved so that she could succeed. Heavily interested in STEM, Adalyn took four years worth of biology and six years worth of science! Proving her ability to push herself, Adalyn took part in STUCO, NHS, Choir, musical, Science National Honor Society, Mu Alpha Theta, Moody's Mega Math, Math League, the school's 3D printing challenge, science fair, and several other clubs and honor societies. Her interests expand beyond STEM as well. Adalyn is captivated by the humanities, especially in Classics. Outside of school, Adalyn is a sister to two former SHA students, and spends her time volunteering at her town's youth service programs and working at Kumon, where she helps younger students develop their reading and math skills. Adalyn notes that throughout her high school career perfectionism was a difficult trait to overcome, but now, as a graduate, she recognizes that "Perfection is something no one attains." SHA's Salutatorian will be attending Vassar College in the fall, with a double major in Biology and Greek and Roman studies. She plans on furthering her education in the hopes to obtain her Ph.D. and becoming a Professor of Biology. Adalyn leaves Sacred Heart proud of her graduating class, admiring their sense of community despite trying times. When asked the key to her success Adalyn humbly responded, "I don't think there is any one way to be a successful student because there are always so many definitions of success, but I think grit (a term coined by Mrs. Gniadek), is universal in all of them. She always defined it as sticking with something, even if it is difficult." Adalyn also wants future students to know that a good support system is always important, and on that note, she sets off into the world excited for what is to come.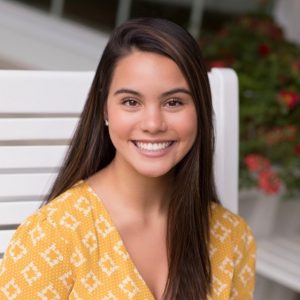 "I want to be remembered for being not just a good student, but a well-rounded person," says Alyssa Harduby, ranking third of her class. It is clear by Alyssa's accomplishments and aspirations that she lives up to this statement. Throughout her four years, Alyssa has been involved academically, socially, and athletically in the community at SHA. Prioritizing her academics, Alyssa was a member of several National Honor Societies, and fulfilled her role as president of Key Club, as well as participating in Mu Alpha Theta. Alyssa was also awarded the Gettysburg College Book Award her junior year. She was a National Merit Scholarship commended student and an SCC scholar-athlete which brings us into her athletic achievements. Alyssa was the captain of Sacred Heart's competitive cheerleading team and also cheered on the game day team. With an extremely busy schedule, Alyssa emphasizes the importance of time management to her success. "Achieving your goals requires sacrifices," she says. Although the stress of her ambitious lifestyle could become overwhelming at times, Alyssa urges future students to set goals for themselves in order to maintain motivation. When she first arrived at SHA, Alyssa Harduby made it a goal to be in the top 5! Leaving SHA, Alyssa will be attending the University of Notre Dame majoring in Neuroscience and Behavior. She plans on continuing her studies in medical school and becoming a doctor. Alyssa is grateful for the people who surrounded her and the support they provided, especially the teachers who made an impact on her time at SHA. Alyssa admires the bond that her class developed during the year, and leaves us with her final words: "Enjoy your time at SHA, it really is over before you know it."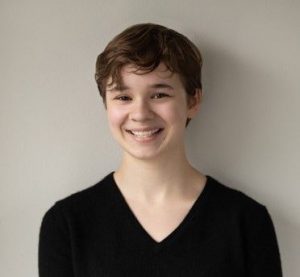 Allison Rozear graduates in the top 5% of her class as a student who was actively involved in the community. Participating in Mu Alpha Theta, Math League, Classics Clubs, the volleyball team, musical, Drama club, SNHS, NHS, and choir, Allison proved herself to be a well rounded, diligent student. Reflecting on her time at SHA, Allison acknowledges the initial difficulty of adapting to a Catholic school. However, she appreciates the experience, noting that, "Although it could be frustrating at times, it was also invaluable, and my worldview expanded greatly. I am ultimately so thankful for the opportunity to learn more about a faith that so many people hold dear around the world." Allison also encourages future students to take advantage of the many resources and opportunities at SHA. In the fall, the graduate will be attending Worcester Polytech Institute in the hopes of remaining involved in several STEM fields. Allison plans on doing research projects, traveling abroad, and meeting new people. Allison leaves us unafraid to admit that, "It is nearly impossible to push through the tough moments if you do not love what you are doing. Finding at least one thing that I loved about a class or subject helped me stay motivated and happy."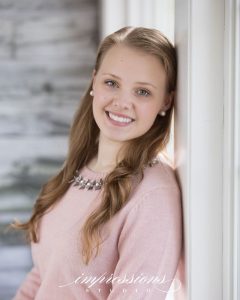 Graduating as a notable Summa Scholar is Ashley Plochocki, secretary of the Science National Honor Society and member of National Honor Society, Mu Alpha Theta, Math League, Interact Club, and Peer Connection. Outside of her academic studies, Ashley participated in synchronized skating, competitive skating, ice dance, and theater on ice. It is evident that Ashley's dedication both in and outside of school lay the foundation for her admirable, passionate, and selfless character. Ashley received the College of the Holy Cross Book Award and will be attending Brandeis University majoring in biological physics. She hopes to further her education in medical school and wants to continue to help those in need. Through her involvement with Interact Club, Ashley expressed her concern for others by organizing volunteer events. "I would want to be remembered for my dedication to the community because no matter what I had going on, I would always make time to help someone," she says. During her high school career, Ashley looked up to figures such as Marie Curie and Audrey Hepburn for their curiosity and humanitarian work. She emphasizes the importance of an open and positive mindset to one's success. Describing her class as enthusiastic and supportive, Ashley leaves SHA with a "See you later" rather than "Goodbye". Her final words to future students are to "Cherish every moment and every person throughout your four years of high school because they go by very quickly."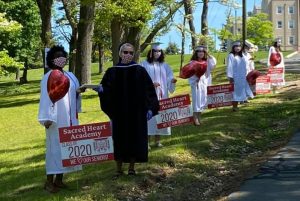 While this academic school year came with several hardships from a pandemic to the global mourning of victims of police brutality, the Class of 2020 became not only activists, visionaries, and supportive friends to one another, but they made history in their unique experiences during their last semester. As a member of the community, I, along with the faculty, wish the Class of 2020 all the best as they set off into a new phase of life. 
1 Timothy 4:12 "Don't let anyone look down on you because you are young, but set an example for the believers in speech, in conduct, in love, in faith and in purity."