The Excitement of SHAlloween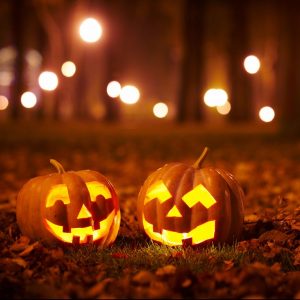 Though SHAlloween is long gone, the events and costumes that took place are too good to forget to write an article about.  It is relevant to the school community every year and is worth taking the time to reflect on even if it is a few months later.  SHAlloween is Sacred Heart Academy's day of celebration for Halloween.  Between costume parades, costume contests, and fun all around the school, every student at SHA is sure to be excited and full of energy on this day.
Usually, friends throughout school will organize a group costume or even a paired costume to wear for the costume contest.  This year, the seniors did a giant group costume of "108 Dalmatians".  The school gathered in the gym for a small costume parade for anyone who wanted to participate and the seniors had their own parade.  The feeling of community and sisterhood was strong throughout the gym when the seniors joined to have some fun for Halloween.  Seeing the unity and the bonds that were present was both inspiring and comforting.  Even seeing the small groups and pairs of friends that had organized a costume together really showed how much everyone connects with each other.
It is fun to see what students come up with for a costume.  Sometimes it will be from a movie, a TV show, a celebrity or a pun.  Students even dress up in classic costumes like black cats.  Funny costumes also appear like an elderly lady on a walker or Bob Ross with a palette in hand and the iconic afro.  The SHA community really gets in the school spirit and the Halloween spirit, which is fun to see once it is all in action.  Sometimes, teachers even dress up in little ways, which is always fun for everyone to see around the halls.
Since SHAlloween is earlier in the school year, it is always something to look forward to coming back to school in August and always something fun to remember in the months of January and on.  The school turns into a building of all kinds of different characters from books, shows and movies so it is a day of surprises and amusement of who people might see in the hallways.  It is never a dull moment when a high school full of teenage girls dress up in all different kinds of Halloween costumes.
It is usually hard to contain feelings of excitement when in class on Halloween, especially at SHA.  The fun never stops when everyone gets together in high spirits and high energy.  The pure chaos that surrounds the halls strikes mixed emotions of anxiousness and enthusiasm to both teachers and students.  It is good to know that any time there is an event like SHAlloween, the school is sure to come together and make the most out of the day.
Sacred Heart Academy is known for its spirited, lively community.  Having willing and passionate students be a part of the school in fun times like SHAlloween let the reputation of being enjoyable and inclusive easily live on.  The unification of the school also helps special occasions feel more homey and friendly.  Everyone as a kid loved the holiday itself and SHA continues that same kind of enjoyment even for high school students, which is hard to find in a high school these days.  It is an overall positive experience for everyone every year and the hopes and excitement of having it continue for many more years are very high.