SHA Loves the Planet – and How We Show it
Since Earth Day recently passed, a tree was planted in memory of Sister Mary Jane, ASCJ, and an Earth Club was started this year, it seems opportune to notice how Sacred Heart Academy does its part to honor our planet.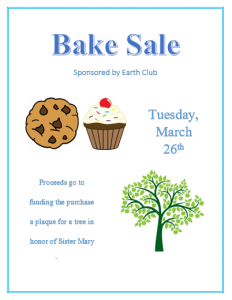 The tree that was planted in memorial of Sister Mary Jane was a magnolia tree, which will be planted outside our school in order to honor her legacy and to provide a physical token of our appreciation for all the work she did and lives she touched within the community. Though she will always be remembered in the hearts of the faculty, alumnae, study body, and extended SHA community, the tree is Earth Club's way of providing a visual representation of this gratitude we have for her.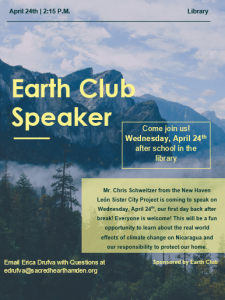 The founders of Earth Club are Morgan Duffany (Class of 2019) and Erica Drufva (Class of 2019), who began the club with the intent of giving back to not only their community but the Earth as a whole. The values of a Sacred Heart student as well as the personal values of these girls is what inspired the creation of a club devoted to making a difference in the world.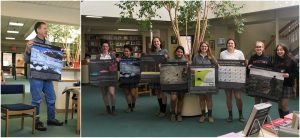 When asked why the tree was planted, Duffany said, "Sister Mary Jane was very involved in the sciences and I think the tree is a perfect representation of her. It symbolizes life in general, the exemplary life she led, and also allows her legacy to live on." She speaks for all of us when she says that the tree is a symbol of a very influential life that will not be forgotten.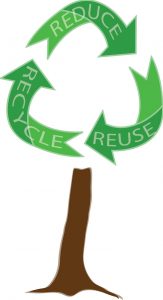 Then, when asked why people should join Earth Club, Morgan responded with "People should join because I think that it gives people the ability to give back to the planet they live on. I have also learned a lot while being a part of this club so I think that it's a good opportunity not only to give back, but to become more enlightened on the things going on around us." Knowing the facts, however shocking and disturbing, about Earth's current state and what we need to do to save it, is an important mission which Sacred Heart is pursuing through Earth Club. As previously said, join Earth Club for the 2019-2020 school year! What could feel better than giving back?