Here's an Interesting Equation: 10 Girls + Math Modeling + Weekend = M3 Challenge

On the first weekend of March (Saturday the 2nd and Sunday the 3rd) two teams of SHA girls, under the guidance of Mrs. Kathryn Gniadek (Sacred Heart's Mathematics Department Chair), participated in the MathWorks Math Modeling (M3) Challenge. The M3 Challenge is an entirely internet-based contest in which 877 teams comprised of about 4,000 high school seniors and juniors all across the U.S. compete for $100,000 in scholarships. Participating teams have fourteen hours to apply their math knowledge to a real-world problem by creating an accurate model of the situation and proposing in-depth analysis and/or a solution for it. M3 also encourages teams to utilize coding, but it is not required. The result of these grueling hours of work is a twenty solution page paper filled with not the data and math models, but also explanations behind how the problem was approached (assumptions, date collection, etc.), the process of creating a model and how it works, and the strengths and weakness of the model (how accurate it is and how it can be improved). These submissions will then be judged by the end of April, and subsequently the winning teams will be recognized and awarded.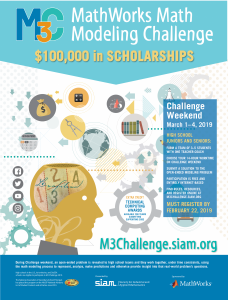 The 2019 M3 Challenge consisted of three main parts dealing with various aspects of substance usage and abuse. The first asked students to create a model that would predict teenage vaping over the next ten years and then compare that to teenage cigarette use. The second asked teams to create a model that would predict the likelihood of a high school senior using any of the given substances (nicotine, marijuana, alcohol, and un-prescribed opioids) by considering individual characteristic as well as the drugs' properties. The final part asked students to develop a system of measuring and ranking the impact of each of these four substances on society. SHA's first team that competed on Saturday, self-named Fab Five (playful reference to the series of math books Mrs. Gniadek has written), was led by Clare Bassano '19 and also included Allison Rozear '20, Amanda Savona '19, Adalyn Schommer '20, and Vivian Wang '19. The second team that competed on Sunday was led by Marilyn Senger '19 and was comprised of Swathi Jacob '19, Maria Papademetris '20, Gabriela Perez '19, and Glory Villano '19.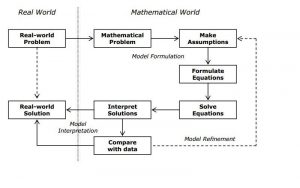 Marilyn's team was able to work together at the school (as it has been done in the past), but the unexpected New England winter storm forced Clare's team to stay at our homes and rely on technology to communicate. I had the wonderful privilege of being part of the dedicated group of girls that worked tirelessly on Saturday, despite the fact that the circumstances made our team work style was a bit unconventional and chaotic. At one point I had the solution paper open on a shared google document, more shared documents open to brainstorm and consolidate data, my school email to share links with my teammate, multiple different google hangouts video calls running on my computer, a group FaceTime call running, a very active group chat with my teammates, about twenty tabs open to various research-related websites, and several different textbooks strewn all over my floor. Despite the craziness though, I definitely learned a lot from this unique experience and enjoyed getting to know these amazing girls in a different way. As Clare so eloquently described the M3 experience, "There is something special about working together for fourteen hours with such a great group. You learn a lot about collaborating in a time-pressured environment. It takes a lot of dedication and creative analytical thinking, but it is very much [so] a worthwhile experience."