SHA Show Choir Travels to Southern Massachusetts Show Choir Festival
On Saturday, February 2nd, the Sacred Heart Academy Show Choir competed for the first time at the Southern Massachusetts Show Choir Festival in Dudley, Massachusetts. Fourteen girls are a part of the Sacred Heart Academy Show Choir, the Sisters. They and the SHA music teacher, Mrs. Mehinovic, conquered a two hour drive up there along the picturesque country roads. The festival took place at Shepherd Hill Regional High School. The group arrived at 9 in the morning and were set to go on stage by 10:30.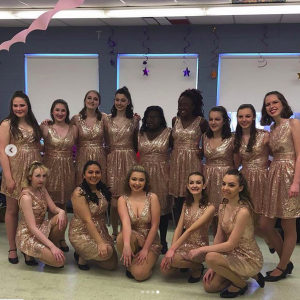 Dazzling in shimmering gold dresses, the Sisters performed various songs including, "Cheetah Sisters," "Super Trouper," "This is Me, Cinderella," "The Greatest Show," "City of Stars," "Cruisin for a Brusin," "Waterloo," and "What Dreams Are Made Of." They put on an amazing show and made our school proud receiving a bronze medal and the judges' award for best musical performance. Along with that Cheri Coore (Class of 2021) got a special award for her outstanding individual dance performance. All fourteen girls worked tirelessly on their routines since the beginning of the year and all their hard work paid off as they presented an impressive and engaging performance for all that were watching. To check out their stunning performance along with the other schools who competed you can watch the video embedded above (SHA Sisters performed from 1:38:00 to 1:56:30).