Beatification of Mother Clelia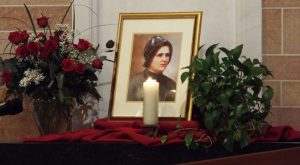 On Thursday, December 3, Mother Clelia Merloni, founder of the Apostles of the Sacred Heart of Jesus, became Blessed Clelia Merloni during her Mass of Beatification at the Basilica of St. John Lateran in Rome, Italy. Before she was elevated to this level of holiness though, Mother Clelia was a real person who had walked this Earth just like you and me, and so this is the story of an amazing woman: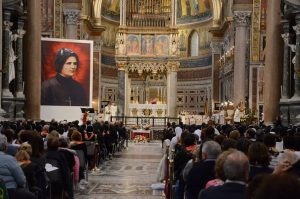 Mother Clelia was born in Forli, Italy on March 10, 1861 to Joachim Merloni and Teresa Brandinelli. Mother Clelia's own mother died when she was only three years old, but she was not lacking strong female role models, because it was her grandmother and stepmother that taught her how to be a strong woman and a person of great faith. As Mother Clelia matured, she realized that she felt called to a consecrate herself to God in religious life as opposed to the extravagant marriage and luxurious life that her wealthy father had hoped for her. Thus, Mother Clelia began to pursue religious life with a zeal and grace that was awe-inspiring, but several times either her fragile health or some other uncontrollable misfortune prevented her from officially entering that religious order. After recovering from an almost deadly lung disease, Mother Clelia finally understood that God was calling her to found her own congregation of sisters and so the Apostles of the Sacred Heart of Jesus was created on May 30, 1894. This order grew rapidly as it sought to carry out its mission of caring for the abandoned (young, poor, elderly, and orphaned) and offering their lives for sinners. On June 27, 1895 Mother Clelia's father died after finally converting and thus she became the sole inheritor of his estate. She was also joyful that he found his way back to God even at the very end. Shortly afterwards, the Apostles of the Sacred Heart of Jesus suffered a severe financial disaster when a trusted priest stole Mother Clelia's inheritance. Luckily with the help of Bishop Giovanni Scalabrini of Piacenza the sisters were able to recover, but it caused tension within the congregation since Mother Clelia and the Bishop had different visions for it. This inner turmoil as well as the unjust slandering of her name by the public because of her perceived dishonor in the previous economic failure ultimately caused Mother Clelia to leave the institute in the hopes that it would be able to heal its wounds in her absence. After twelve years in exile, Mother Clelia was allowed to return to her community, but she lived the rest of her life in isolation from her fellow sisters. Nevertheless, she continued to live a life of sincere prayer and gentle charity up until her death in Rome on November 21, 1930. Since Mother Clelia's death, the Apostles of the Sacred Heart of Jesus has expanded to over 1,000 sisters in five different continents that strive to spread the love of Christ to the rest of the world. I think the words of Sr. Elizabeth Doyle, ASCJ, best sums up the true essence of Mother Clelia's life and what everyone can learn from her when she says, "Mother Clelia responded to brokenness and injury with love and forgiveness [by modeling] Christ's merciful love in the concrete suffering of her own life."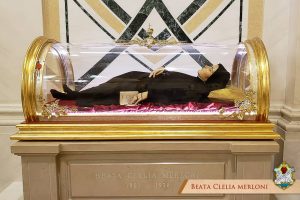 Mother Clelia's journey to sainthood officially began when she was declared a Servant of God on May 21, 1999, which means that the investigation for her cause for canonization had been opened. Then on December 21, 2016 Mother Clelia was declared Venerable which means her heroic virtue was affirmed. On January 27, 2018 Mother Clelia became Blessed when the approval of her first miracle completed her process for beatification. Mother Clelia's first miracle dates back to 1951, in which intercessions through her and contact with a thread from her veil healed a man that was stricken by a progressive paralysis of all four limbs, called Landry's disease, that would have eventually killed him. This along with her lifetime of ministry and legacy of love is what was celebrated during her Beatification Mass in this past November. During this special event Sr. Elizabeth, co-director of Campus Ministry and a theology teacher at SHA, had the honor of providing the English-language commentary for the broadcast on EWTN (Eternal World Television Network), a Catholic-themes television network. Sr. Elizabeth has recounted how joyful she was to have been invited to Rome and also how much research she had done to properly prepare for the event. Nevertheless, all this paid off on the day of the mass and Sr. Elizabeth notes that there were two things that struck out to her the most during the ceremony. The first was that she "felt very united to everyone as [we] all watched together from around the world," this included the SHA community, the other Apostles of the Sacred Heart of Jesus, and anyone else who knows and loves Mother Clelia. The second was "the contrast between the end of her life and the moment of her Beatification," because Mother Clelia went from a forgotten and secluded foundress to a public figure in the Catholic Church.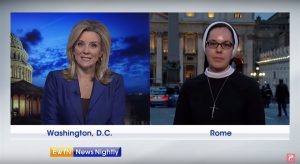 Now the only thing left in Mother Clelia's path towards being declared a Saint is to be canonized, which means she needs a second miracle to be attributed to her intercession. As part of the SHA community Sr. Elizabeth encourages us to ask for Mother Clelia's intercession, because even if "we may not be able to 'prove' these small miracles … we can know in our hearts that we indeed received a miracle from God." Sr. Elizabeth also encourages to learn more about Mother Clelia and share her stories with others, so that they too can be inspired by the amazing charism of this faith-filled woman.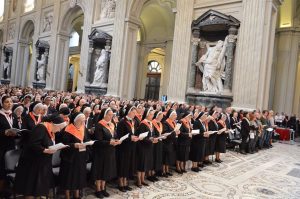 My sincerest regards to everyone whose devotion to Mother Clelia culminated at her Beatification and to everyone in the future who may be touched by her legacy of love. May the love of Christ impel us all to follow in the footsteps of Blessed Mother Clelia Merloni!
For more information visit: