Celebration of the Enthronement of the Sacred Heart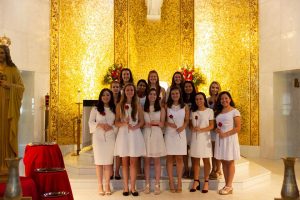 On Friday, October 5th, the Sacred Heart Community came together to celebrate the beautiful ceremony of Enthronement, where the school community celebrates the crowning of the Sacred Heart of Jesus as the King and Center of our hearts. The senior class and faculty elect seniors who model the same integrity that the Sacred Heart of Jesus embodies, strive towards excellence, and show compassion to one another. These elected seniors have special roles in the Enthronement mass. The Honor Guards held up their roses as the two attendants, Makayla Naranjo and Jenna Basile, walked down the aisle. Madeleine Fusco, the crown bearer, followed with the beautiful jeweled crown to be placed on the statue of the Sacred Heart of Jesus. Lastly, this year's Enthroner, Mary Sarah Olson, processed down the aisle and had the special honor of being the one to crown Jesus once the statue was blessed. All of these women serve as genuine models of what it is like to live like Christ.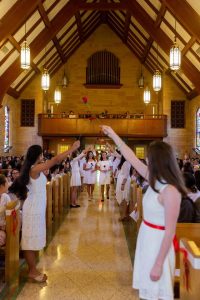 This ceremony shows how we come together as one faith-filled community to show our devotion to the Sacred Heart of Jesus. The mass was further made memorable, because of the joyful atmosphere that was created by everyone's voices joining in during some of our favorite chapel songs, like "Open the Eyes of My Heart," "Shepherd of My Heart," "You are My All in All," and "He is Exalted." When each of us was invited up to the altar to place a jewel onto the silver platter, we were reminded of how we are precious jewels in the eyes of Jesus. Finally, the mass came to a close as it always does, the whole SHA community singing the Alma Mater together, which exemplifies the "strong bonds" that bring us all together.