Mu Alpha Theta and Science National Honor Society Inductions: Select Students Honored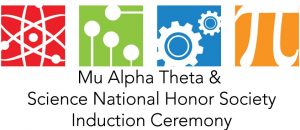 On Wednesday, September 26th, 11 members were inducted into Mu Alpha Theta and 19 members into Science National Honor Society.
In order to be eligible for membership in Mu Alpha Theta, the Mathematics National Honor Society, one must be enrolled in an AP level Calculus course, maintain a strict grade point average, and participate in Math League for at least one year. Once inducted students will tutor their peers during study halls, provide math assistance to students across the globe through Study Buddy Online Homework Help, and  contribute to the school-wide Pi day celebrations. During the induction ceremony, treasurer Marilyn Senger (Class of 2019) discussed notable students for their exemplary achievement in the MathWorks Math Modeling (M3) Challenge, a 14 hour long competition that invites students to apply their math knowledge to real world situations. Last year, SHA entered two teams and the team that Marilyn was a part of was ranked within the top 200 teams. Following Marilyn, the president of Mu Alpha Theta, Clare Bassano (Class of 2019), congratulated both the new and returning members, while also cracking a couple math jokes along the way. Finally, Mrs. Kathryn Gnaidek, the Mathematics Department Chair and Co-Moderator of Mu Alpha Theta, officially presented the inductees with their certificates.
Following Mu Alpha Theta was the induction ceremony for Science National Honor Society (SNHS). Members of SNHS must enroll in a full year Honors or AP level science class each year and maintain a strict grade point average. Additionally, members must provide tutoring assistance in specific science subjects after school and guidance to students that are conducting science fair projects. During the induction, the president of SNHS, Swathi Jacob (Class of 2019), praising the exceptional science faculty at SHA. Mrs. Pamela Brownell and Dr. Elizabeth Christophy, Co-Moderators of SNHS, then gave both new and returning members their awards and held the traditional Candle Light Ceremony to specifically honor the new inductees.
Congratulations to all new and returning members!