The Inside Scoop on Fall Sports 2018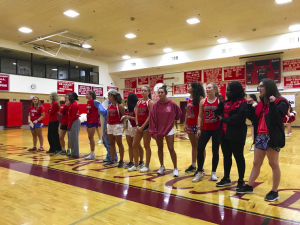 SHA's fall athletes this year have been working hard since the first day back to school in August, to improve their skills and strengthen their bonds with their teammates. The swimming, field hockey, cheer-leading, cross country, soccer, and volleyball teams have all had great seasons, with still more excitement yet to come.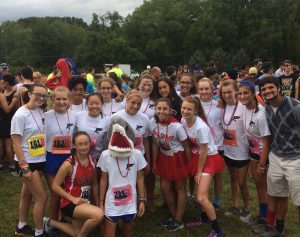 I spoke with an athlete from each team, to get their perspective on how their sport's season has been going:
Susan Hemingway, a junior swimmer, exclaimed that "swimming has been going really well! We've been having a lot of fun at practice and meets, and the team feels like one big family. We have a lot of new people who joined, which is great, and a new assistant coach who is really awesome. Mostly it's clear that we're all really passionate about swimming and I'm glad to be a part of this team!" Good luck to the swim team at their last few remaining meets!
Next I heard from Ali Ciaburro, a junior field hockey player who informed me that "this season was difficult in the beginning, but now we're doing a lot better and won six games in a row." Congratulations to the field hockey girls for persevering through their challenges and pulling together to win six times in a row! That's an impressive demonstration of what hard work and team work can accomplish.
Mia Sandillo, a cheerleader, shed some light on the football season and their cheering at games: "I can say that we work really well together as a team and the season overall has been pretty good. We have a lot of new girls which we love to see." Alyssa Harduby, another cheerleader, added that "we overcame lots of obstacles." Way to go girls, and I hope your season ends fantastically!
Next I heard from Molly Cotjanle, a junior runner who spoke fondly about cross country and the success of the season. She informed us that "cross country is such an amazing sport because it teaches that when things get hard, you have to keep going. The team is amazing and is so encouraging and knowing that your friends are cheering you on at the finish line makes it all worth it." Thank you Molly, for this thoughtful and admirable look into what it's like to be on the SHA cross country team!
A freshman soccer player, Elizabeth Carchia, spoke for the team when she said, "The soccer team is doing really well. We're having fun, and yes, we made states. We are looking forward to finishing off our season with more wins." Great job soccer players, for winning several games and making it to states! We wish you the best of luck in finishing off your season.
Finally, from the SHA volleyball team, sophomore Julia Tangari expressed that "we've all bonded so much this season and now we aren't just a team we are family." It is great to see the volleyball team, as well as all other teams, becoming close with each other and highlighting the most positive aspects of the sport they play!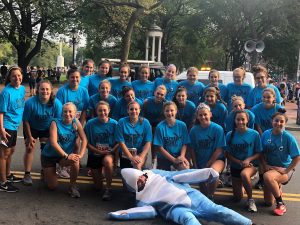 Playing a sport comes with a lot of defeat, stress and exhaustion. The SHA athletes of 2018 proved that these negative aspects are overcome by the bond of a team and support of loving teammates. Although the excitement is undeniable when Coach Bedocs announces at lunch that practice is cancelled because of a thunderstorm, all the girls work hard when they do have practice. Finally, I would like to give a quick thank you to all the girls who spoke about their sport and represented the thoughts of their team. Let's wish all of our fall athletes immense amounts of luck for their final meets and games of the season. GO SHARKS!!!!