SHA Orchestra Performs for New York!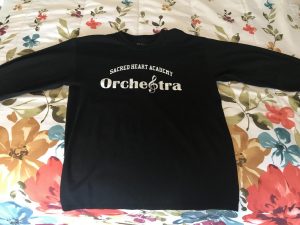 On Monday, April 30, the SHA orchestra, conducted by Mrs. Vesna Mehinovic, went on an excursion to New York City, where they performed in front of the fountain at the Lincoln Center for the passersby. On the day of the trip, it was rainy and windy, yet everyone put forth their best effort and persevered despite the less than ideal weather conditions. Surely though, any New Yorker passing by had their spirits lifted by the sounds of the orchestra's music as they headed to class or work in the unforgiving rainfall. Despite having numb fingers and their music sheets whipping about, the SHA orchestra members pulled together and united to play three great songs. These songs were "Forgotten Dreams" by Leroy Anderson, "You Light Up My Life" by Joe Brooks, and a medley of songs from the musical Les Miserables by Claude-Michel Schonberg and Alain Boublil. Although the musicians' performance of the first song was on the quiet side, they soon adjusted to the inclement weather and began to play with more enthusiasm. After all, with rain droplets soaking through the sheet music it can be very hard to read the notes! Even though, a bright, sunny day would have been more manageable, the weather allowed for the orchestra's best qualities to shine through: persistence and teamwork. Everyone played their instruments with great dedication, maintained steady timing throughout the songs, and most importantly put smiles on the faces of citizens and tourists alike. The most rewarding part of the trip was seeing how the orchestra was able to brighten people's day, by filling the gloomy air with their music.
After performing, the orchestra members headed to nearby Fordham University, where they ate and toured the school. They were shown the visual arts section, a classroom, and even entered a freshman's dorm who talked about her college experience. They learned that the university is close to Julliard and Central Park and that the dorms have a great view of New York City. As classes started, the members of the SHA orchestra witnessed a regular Monday on the Fordham campus, and observed the lives of everyday students, which was very interesting. After visiting the college, the students walked to Rockefeller Center, where they spent the rest of their time.
The Sacred Heart orchestra did not have the best weather conditions for playing instruments outside, but they made the most of the situation and had a great, successful trip to New York City. They learned about college life in the city, spent time with their friends, received a break from the normal school routine, and most importantly, brought smiles to the faces of people who heard their music. I would like to congratulate the orchestra members, who work hard every week, persistently practice their instruments, and continuously improve their musical performance. Great job, girls!