Hooray for SHA Cheerleading!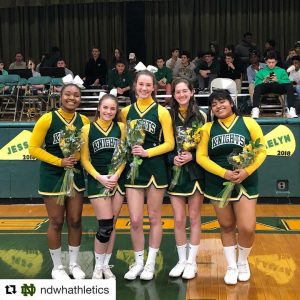 The hardworking cheerleading team at Sacred Heart Academy has had a great season, due to their continuous dedication and rigorous practices. Sometimes cheerleading is viewed as having little importance and thus, receives less attention than it deserves. However, cheerleading is a demanding sport that requires all different aspects of physical fitness as well as precision, timing, rhythm, and the ability to work well with other people so as to create something amazing and entertaining for the audience. Our team's hard work paid off when they came in first against Mercy and ninth out of the twenty-two teams in attendance at the Southern Connecticut Conference (SCC) Cheerleading Competition. Great job girls!
Mia Sandillo, a talented and tireless SHA cheerleader, shared some words about the sport in which she dedicates so much time:
"Cheerleading to me, is all about team work and sacrifice."
After telling us what the sport means to her, she went on to give some advice to aspiring cheerleaders and athletes of any sport.
"As long as you have a good mindset and positive attitude you can achieve anything you put your mind to."
Her success in the sport came from the positive attitude and cocsistent work ethic that she clearly displays. Cheerleading is a sport of cumulative hard work, building on the progress you have made previously. The SHA cheerleading team was pushed physically and mentally this year, but giving up was not an option.
Finally, Sandillo shared some words regarding their success against Mercy.
"Our win against Mercy was due to determination and endless hard work."
These are the qualities that a good cheerleader, or a good person in general, needs to have. Thank you to Mia Sandillo for sharing her opinions, and congratulations to the whole team for an outstanding season and a job well done!