Immaculate Conception Celebrated in Spanish Mass
Hang on for a minute...we're trying to find some more stories you might like.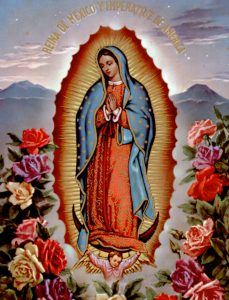 On December 8, 2017, Sacred Heart Academy celebrated the Immaculate Conception of Mary in a Spanish mass. This mass honored Mary and her portrayal as the Virgin of Guadalupe, an important and powerful symbol in Mexico as well as other Latin American countries. Sr. Elizabeth Doyle, Ms. Destito, and the Spanish Department organized this celebration. The mass was held in the gym and was conducted by members of advanced Spanish language classes. Participants helped lead the school in the singing of Spanish songs as well as giving the readings in Spanish.
The Church refers to the Immaculate Conception as the conception of Mary as free from sin and her receiving of the sanctifying grace by God that would otherwise be given through Baptism. This protection from sin is said to be given to Mary to protect Jesus Christ from sin. The Virgin of Guadalupe, a symbol of Mary, is widely celebrated in the Latin American world. She is said to have appeared in Mexico City with the appearance of a native. Diego, along with Mary's help, was able to help allow the construction of a church. The Sacred Heart school community celebrated the Immaculate Conception with the portrayal of Mary as the Virgin of Guadalupe to emphasize the importance of the Hispanic culture within Sacred Heart as well as to experience mass in a different way.
The mass featured singing performances by Genesis Brito as well as a cellist Gabriela Perez. The priest gave a poignant sermon on the importance of inner beauty, citing Mary's kindness and strength in carrying the son of God as an example. He asked each of us to aspire to have Mary's strength and follow her example.
Overall, we thank the Spanish Department in their planning of such a new and exciting mass celebrating the Immaculate Conception!