Meet the Hallmark Movie Filmed in CT: Romance at Reindeer Lodge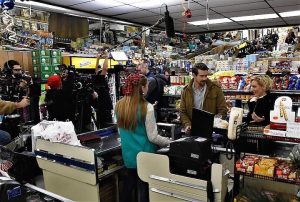 This past Christmas season, as I was binge watching my favorite holiday movies, I came across a new Christmas movie entitled Romance at Reindeer Lodge. This festive Hallmark Movies & Mysteries film tells the story of Molly (played by Nicky Whelan) and Jared (played by Josh Kelly), who have both sworn off the Christmas holiday; however, their experience at a reindeer reserve helps them find true love (with each other) and revive their Christmas spirit. This is not just any old Hallmark holiday movie; it is unique because it was filmed right here in Connecticut.
I remember first stumbling upon this film while I was walking around downtown Branford with my mom during mid-November. As we passed by P.S. Fine Stationaries, a gift shop, we noticed a sizable crowd of people and film equipment surrounding the store. We asked a man watching one of the monitors what was going on, and he informed us that a scene from the movie Romance at Reindeer Lodge was being filmed inside. He explained that it would air on television on Sunday, Dec. 17, on the Hallmark Channel. I made note of the date and was sure to watch it with my family!
As I was watching the movie, I genuinely enjoyed the romantic storyline and cheesy lines of dialogue (as can be expected in all Hallmark movies), but I also had fun identifying all the local places that were featured in the film. The majority of the movie was filmed in Connecticut, particularly the towns of Branford, North Haven, and Hamden. The primary setting was the reindeer reserve and the ranch of the reserve's owners, properly dubbed Reindeer Lodge, which used a house on Ridge Road in North Haven. There were also several scenes shot at locations in downtown Branford, including the grocery store Caron's Corner, the gift shop P.S. Fine Stationaries, the clothing store Possessions, the restaurant Pasta Cosi, and the town green. I also recognized that most of the airport scenes took place in Tweed-New Haven Regional Airport. Other filming locations were Hamden's very own Brooksvale Park and South Windsor's Dzen tree Farm.
The other thing that struck me as I was watching the film was its message about embracing life, both its planned moments and its spontaneous ones. In particular the movie perfectly expressed this theme when one of the characters shared this advice: "Sometimes the best things in life are the things we weren't expecting at all. Life is a bit like Christmas. All these traditions but every once in a while something that comes along that ends up surprising us all, and it just might end up a Christmas tradition, too."
Overall, Romance at Reindeer Lodge was a pleasant watch and I look forward to cozying up with my loved ones next year by the fire and enjoying it all over again. I hope you all had a wonderful holiday season and that you carry some of that joy and laughter into the new year. And if you are still in the holiday spirit, check out this cute Christmas film.