Welcome! Interview With Two New Faculty Members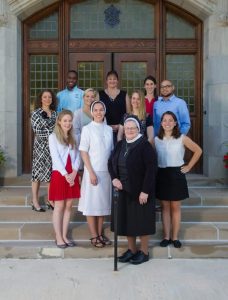 As I begin my sophomore year, a few new teachers were welcomed into the SHA community this year.  For my first Alethea article, I decided to get to know a couple of these new teachers. First, I interviewed Mr. John Bien-Aime. I was really interested to interview him because I thought it would be fascinating to learn how someone might be interested in computers.
Mr. Bien-Aime is interested in this type of work because he believes that technology is always changing and that it is a big part of our lives. He took a job at SHA because Sacred Heart Academy was a client of the company he had previously worked for so he was just put here.
His job has changed his life because it has made him see how important technology is in everyday life and how much people depend on it. I thought this was a really good point because technology is so relevant in today's world. In Mr. Bien-Aime's free-time, he likes to watch and play soccer.
Next, I interviewed a new math teacher, Mrs. Bobbie Davis. Mrs. Davis's interest in math is due to the fact that it is similar to solving a puzzle and also that her mom was a math teacher. She decided to accept a job at SHA because it was close to home and she has always wanted to teach at the high school level.
Mrs. Davis's job has changed her life by making her work harder, which I think is awesome because that means it has motivated and challenged her at the same time! I was interested to know if math ever frustrated her and she explained that sometimes math can be very frustrating but that's usually only when she has made a silly mistake. The last thing I asked her was where she has traveled in the past and where she would like to travel that she has not yet been to. She told me that the farthest she's ever traveled was to Greece. The place she would like to travel to the most is Minsk, Russia because that is where her grandfather lived and she would love to see it.
I was so glad to interview these two new wonderful teachers. It reminded me that teachers are just like students; they can get nervous and they can also have a lot of fun interests.