SHA Takes March for Life 2017
Hang on for a minute...we're trying to find some more stories you might like.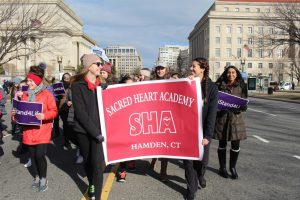 Sacred Heart Academy's Pro-Life Club participated in the March for Life in Washington, D.C. on January 27, 2017. This is the Pro-Life Club's main event aside from the baby shower. SHA is fortunate to have the opportunity to attend the march each year. We get a lot of interest and participants for the march both from inside and outside of the club and the school.
Because Washington, DC  is about a six hour drive, SHA Pro-Life makes an overnight trip to the march. We take a coach bus the night before that leaves at around 11:30 p.m. from school. Then we attend the Youth Rally and Mass for Life in the morning at the Verizon Center. It's amazing to see so many school groups and different organizations traveling from all over the nation to come together for one cause. After the mass, we walked to the Washington Monument to listen to speeches before the start of the march. This year we had the opportunity to listen to Vice President Mike Pence and several other Pro-Life advocates speak. That was what made this year's trip so unique. The march began in front of the Washington Monument and ended at the United States Supreme Court. We were very lucky to have nice weather this year, but the march always takes place, despite any weather circumstances. People always march, regardless of the weather, and that is very inspiring to see how passionate people are about defending life.
SHA was fortunate enough to meet up with our sister school – Cor Jesu – which we had been planning for months. It was a great opportunity to meet and talk to our St. Louis sisters and discuss the differences and activities of their club and school in comparison to ours. In addition to meeting the Cor Jesu Pro-Life Club, we also met another Sacred Heart Pro-Life club! In an attempt to get our club organized, we stood under a sign that said "Sacred Heart Academy," but it was not ours. It was a bit confusing, but a good conversation starter! As it turns out, there is another high school named Sacred Heart in Ohio, but they are co-educational.
I am the Vice President of the Pro-Life Club, and the reason I joined Pro-Life was because of my experience on the March in my sophomore year. My friend, the current President, persuaded me to come, and I couldn't have asked for a better experience. I had given no previous thought to the issue of abortion, and after the march, I could not stop thinking about it. A feeling awakened inside of me. After I took part in the march my sophomore year, I had a clear perspective of what I thought was right and what I considered wrong. Such clarity on issues is not very common, because there are two sides to every story. The feeling – to be surrounded by so many people around you that share the same viewpoint – makes your desire for change even stronger and more fervent. So if you are ever offered new experiences or opportunities, do not shy away because you are unfamiliar with it or it is uncommon or it is "not cool." I encourage you to try new things so that maybe you can find something you are truly passionate about.
I think I can speak for the club and all of the participants this year when I say that it was a great experience. Regardless of which issues spark your interest, the experience alone of going on a peaceful protest was enlightening and insightful. It inspired me to become so active in the pro-life community, but it has a different effect on everyone who attends. Of course, none of this would have been possible without Ms. Scaramella, Sr. Lauren, and Sr. Kathleen, and their admirable dedication to the school, club, and the Pro-Life cause.