Science Fair 2017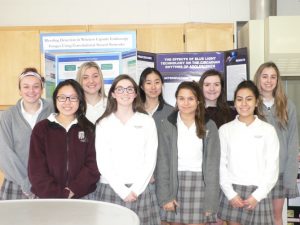 This March marks the 69th annual Connecticut Science and Engineering Fair, a program intended to cultivate interest in these subjects among students in grades 7-12. Across the state and in regions of New York, over 15,000 entrees compete for 500 sought-after spaces in the fair hosted at Quinnipiac University. Cash prizes are often awarded, and the top four contestants advance to the International Science and Engineering Fair. As a part of Sacred Heart Academy's rigorous science curriculum, students currently enrolled in an honors biology or chemistry class (usually freshmen and sophomores) are required to partake in this event, allowing them to explore and display their critical thinking skills. Often girls will continue to pursue this journey into their years as upperclassmen. "Science Fair gave me the opportunity to explore topics that interested me outside the classroom and share my research with the school, which is why I chose to do it again junior year," says Eunji Lee, placing first in her division. The top three winners from each grade proceed to present their work at Quinnipiac University.
Since September of last year, participants have been working diligently on their projects, in which they design and perform an original experiment. Many resort to analyzing daily issues for inspiration. The laboratories in school are often crowded with numerous students during fair season. The process is grueling, but the educational value of the experience is priceless. While the science department and Science National Honor Society at Sacred Heart Academy provide significant guidance towards the students, the majority of the project is independent. The results are finally displayed in February for school-wide review after months of extensive research, experimentation, and stress. Several students will then be selected to defend their projects before the science department, the final step prior to advancing to the statewide level. Winners are determined following the presentations, and this year's included: Adalyn Schommer, Julianna Milidantri, Brisa Mendoza, Glory Villano, Katie Gray, Claire Lagarde, Vivian Wang, Eunji Lee and Amy Ziobron.
There is no update thus far as to how or if Science Fair at Sacred Heart Academy will change next year. However, it is certain that the skills and knowledge attained by each participant throughout the experience will never alter. As science teacher, Dr. Christophy, states, "Science Fair teaches skills such as time management, how to design experiments, how to organize data, how to change procedures that aren't working, and how to draw conclusions from data. It is hard and takes a lot of time, but once it's done, there is a real sense of accomplishment. The student has learned that she can tackle that large a project and be successful at it. The student has gained experience with speaking in public and defending their ideas, and she has something that she can write a college essay about and put on a resume." A scientific report on this year's science fair—one can conclude that the experience is well worth it!