Fourth in the Class: Delfina Ferro
Fourth in her class, Delfina Ferro has looked back on her time at SHA feeling so much of the love and excitement with not only her class but the rest of the school. As the Student Council Executive Board President, one of Delfina's favorite memories was the Fall Sports Pep Rally. She comments, "I was so excited to see the whole SHA community back together after not being able to rather because of COVID-19". This year being her first year leading the school, Delfina says that she loved the energy from the crowd and the athletes, as it was a fun time for all. Not only was Delfina a member of STUCO but she was also a member of the Cross country and Lacrosse teams, Peer Connection, Orchestra, and was a Kairos Team Leader. She took part in the M3 Math Challenge and was a member of the Math League. She was awarded the SARS outstanding Citizenship Award and the Villanova University Book Award, along with being named a United States Senate Youth Program Finalist. Outside of school, she finds interest in photography and reading.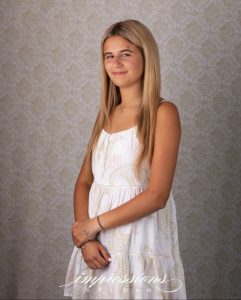 Delfina plans to attend Boston University and is majoring in Political Science as she has always been interested most in politics, law, and history. After college, she hopes to attend Law school and become a lawyer in the future. In college, Delfina is most excited about meeting new people and being able to learn new perspectives. She also is looking forward to furthering her education in one of the best cities in the world and gaining experience through internship opportunities.
Growing up, Delfina's biggest role model has been her dad. She says, "He taught me to never give up and always stay positive. Nothing was impossible if I put my mind to it. He inspired me with these lessons to work hard and reach my goals". Delfina continued to carry these words of wisdom with her throughout her four years at SHA. She has learned the importance of balance and is grateful for the support of her family and friends, noting that none of her achievements would be possible without them. She finds that it is crucial to build friendships and spend time with family. At SHA, she has also learned that you should not only focus academically but be a well-rounded person and remember to have fun. For her, balance was the key to her success and happiness in high school.
To the students and incoming freshmen at SHA, Delfina says "Enjoy your time at SHA because it flies by, and go into school every day being grateful for all the opportunities SHA teaches. Lastly, live in the moment, and have fun!"