Third in the Class: Nikita Khanna
Third in her class, Nikita Khanna hopes the student body at SHA remembers to slow down and appr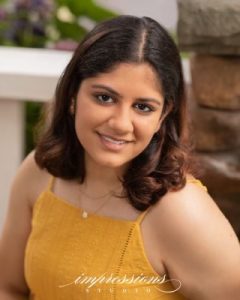 eciate their achievements, fun times, and small moments to their fullest because too often we gloss over them in pursuit of our grades. Though academics are important, it is also important to find love in our academics which Nikita cultivates in her extracurriculars. At SHA, Nikita was a part of the Math League, took part in the M3 Math Challenge, was secretary for Mu Alpha Theta, and was treasurer for the Science National Honors Society. She was honored with the University of Rochester Bauch and Lomb Honorary Science Award and the Sister Mary Jane Paolella Senior Research Award. She was recognized with third honors from the Connecticut Science Fair and was awarded the Sister Antonine Signorelli Scholarship during her freshman year. This scholarship is awarded to incoming freshmen with the highest entrance exam scores and who demonstrate great academic potential. Outside of SHA, Nikita works at the Field View Farm Ice Cream Shop. She enjoys reading, horseback riding, science, and research.
Nikita plans to attend the University of Michigan as a biology or microbiology major. She learned of her love for microbiology through SHA's microbiology course. In college, she is going on the pre-med track and after college wants to attend medical school. She looks forward to making her own schedule in college. She says, "I love SHA but not waking up at 5:30!" Her favorite memory of SHA is the trip she took to Philadelphia with the Honors Biotech class for a science conference. She remembers it as the coolest experience of her life.
Nikita lives by this quote, "It is only with the heart that one can see rightly; what is essential is invisible to the eye". She finds that this quote connects to our time at SHA because a part of our education and learning is about love and morals and that love supplements our academics. It reminds us that our time at SHA is nothing without our bonds with each other, no matter how much academic success we achieve. Most notably, Nikita has learned to balance between fun and school as both are equally important.