Mehr Chartre, Valedictorian
While at SHA, Valedictorian, Mehr Chhatre has loved every second of her time here. Among her favorite memories, she found that she will always remember the Friday Lunch dance parties with her class as it was so much fun for everyone to come together. As well, another unforgettable memory of hers was when she was elected STUCO executive treasurer during her freshman year. During her four years at SHA, Mehr has been an avid participant in SHA activities. She worked as STUCO Vice President this year but also had a role as treasurer and secretary on the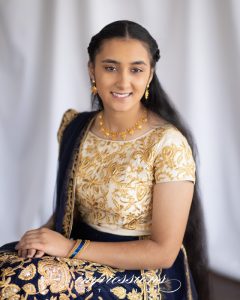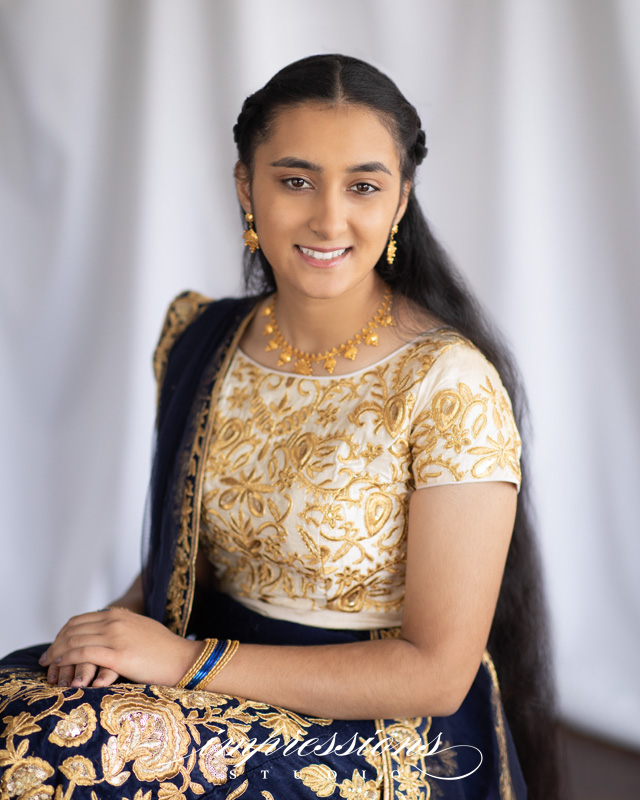 Executive Board in past years. This year, she was President of Mu Alpha Theta but was named Vice President in her junior year. As President, she led the first SHA Stem Week. Alongside having these leadership roles in the NHS, she is part of the Spanish NHS and Science NHS. As well, she established the first Technology Student Association Chapter at SHA. With the TSA, she received awards at the State, Regional, and National levels. Mehr was 1st violin during her senior year and played with the Orchestra all four years. She was a writer for the Alethea throughout her time at SHA and was in Peer Connection for three years. She led the SHA M3 Math Team as a two-year co-captain. Outside of school. Mehr has a 2nd-degree black belt in Karate. She has tutored at Kumon in Hamden and was an Apprentice and Camp Counselor at the Eli Whitney Museum. There, she learned workshop skills and design techniques. She was a volunteer at the PLACE Art Camps and Yale Girls Science Investigation. In addition to being a volunteer researcher at QU Ecology Lab. Mehr took part in Yale Discovery To Cure which works to provide women with new methods for the prevention, early detection, and treatment of gynecologic cancers.
Alongside this, Mehr was awarded the Yale Book Award and the Xerox and University of Rochester Innovation and Information Technology Award. She was named a National Merit Scholarship Finalist and AP Scholar with Distinction. She has earned High Honors all four years at SHA and was in the Top Ten in the CT Science Fair for Biotechnology, Physical Sciences, and Life Sciences. Mehr also won the UCONN Nutmeg Scholarship
Mehr is not only outstanding in the classroom but also shines through with her creativity. When she is not exercising her mind, Mehr finds interest in dancing, music, and art. She taught Bollywood dance to at a local elementary school and during our Diversity Week. Mehr says, "I really enjoy creative outlets where I can explore and try new things, whether that be designing a print and doing printmaking at work or even painting with my dad at home".
Fostering these creative hobbies has made her want to major in an area that allows her to explore her creative side. In the fall, Mehr plans to attend the University of Connecticut Honors College and major in chemical engineering. Mehr mentions, "Engineering is all about creating new technologies and new ways to help the world. And since I really enjoyed chemistry during my time at high school, when it came time to determine a certain engineering, I felt pulled towards chemical engineering as I could go eventually go into a wide variety of careers and research such as sustainability, medicine, or even space". At UConn, Mehr is looking forward to all her experiences but essentially having a good campus life with many student-led events which she can attend and clubs or activities she can participate in. She is excited about having a strong campus community and school spirit. After college, Mehr hopes to pursue her master's and Ph.D. degrees and continue learning so that she can find a specialized career in which she is passionate about. She eventually wants to become a researcher and professor, though most importantly wants to help create change in the world.
Mehr has lived by the quote "We live in a wonderful world that is full of beauty, charm, and adventure. There is no end to the adventures we can have if only we seek them with our eyes open". This quote by India's first Prime Minister Jawaharlal Nehru reminds Mehr how lucky we are to live in this world, despite the difficulties, and to go and recognize all of the good in our lives. Instead of allowing herself to be paralyzed by the bad, she seeks the good in the world. To her, there is so much fun to have and so much to learn.
The most valuable lesson Mehr has learned at SHA is the importance of exploration. She finds that she is lucky to receive so many opportunities and meet so many people during her time at SHA which allowed her to break out of her comfort zone. She was able to discover new things and passions which she would not have known otherwise. Overall, she learned how great it is to be brave and branch out! Mehr hopes for SHA students and incoming freshmen to take chances and explore! She quotes, "If there is something you are interested in, even if it makes you a little nervous, take the opportunity and listen to yourself! Don't let others' expectations or others' interests deter you away from what you love and always challenge yourself by trying new things! Even if it does not turn out perfectly, branching out will always help you learn more about yourself and the world!"