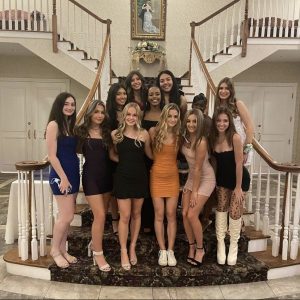 The Sacred Heart Fall Formal, which usually occurs every fall, is an exciting event that students look forward to at the start of each school year. It was especially exciting this year as it was cancelled last year due to the pandemic. This event was very special to sophomores, juniors and seniors, along with their guests, as it allowed for one of the first social events in school since before the pandemic. Excitement filled the air at SHA in the weeks before, in anticipation of this event, and the fun that would take place that night.
As students flooded into the banquet hall of the Aqua Turf in Southington, teachers greeted them at the door to sign in and to compliment them on their attire. Each guest was assigned a table, which allowed for them to meet up with their friends and socialize with their guests. Once everyone was settled in, a dinner was served buffet style, and attendees were called up table by table. The buffet this year included dishes such as pasta, garlic bread, salad, and several varieties of chicken. Students also enjoyed an unlimited smoothie bar with multiple selections to choose from. Shortly after dinner, the lights were turned off and music was played by the DJ! Students danced all night to hit songs that they had previously requested, and all sang at the top of their lungs.
Many students attended this event, and all of them seemed happy with the how the night went. Smiles filled each of the students faces as they danced and socialized the night away. Throughout the course of the night, various sports teams called for group photos on the steps of the Aqua Turf. There was also a personal photo booth for students and their guests to use throughout the night, which included several fun props and signs. Guests were able to download and print their pictures to remember this special night.
It was fun to see each of our SHA students and everyone looked exceptional! Everyone was so happy that SHA was able to host this event, and we all look forward to future events like this. Who knows what is to come, but whatever it may be, will be hard to top the Fall Formal.