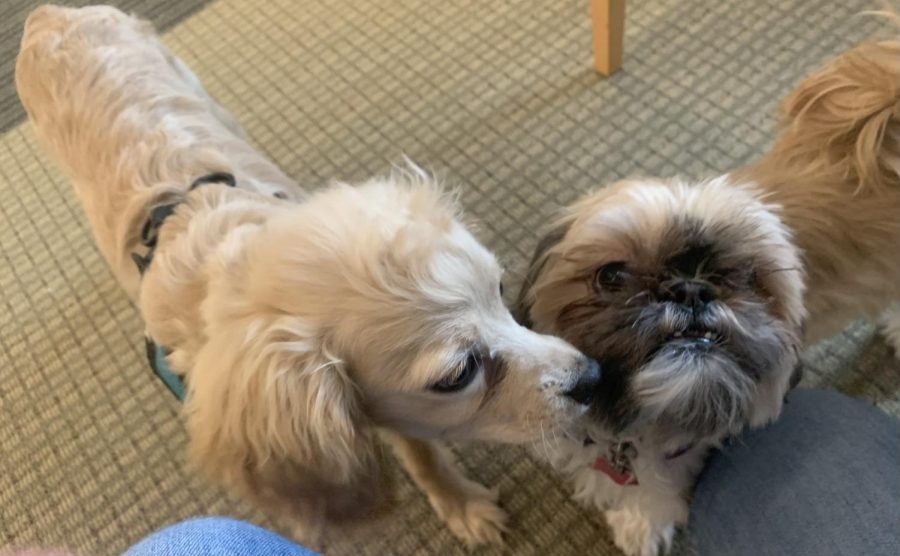 November 2020 was filled with various events but the best one was the arrival of our fluffy new member of the SHA community, a cocker-spaniel poodle mix mix! The sisters named her SHAdow. In addition to being adorable, she has helped the SHA community by being a positive light despite COVID. If you have the pleasure of meeting her, you know that she is timid, but as her time at SHA continues, she will keep growing into an outgoing puppy.  
The sisters have wanted to get a puppy for a while, and after a few months of looking for the right dog, they found SHAdow. She was given by a family at a farm in Lancaster, PA.  During COVID, it might seem as if the process of purchasing a dog is harder than before. However, the sisters found that it was not too different. They searched online for dogs, both rescues and bred, and after finding SHAdow, visited the family farm by social distancing with masks on. Her breed is a mix of cocker-spaniel and poodle.  As the months go by, it is visible that she has been growing both physically and mentally.
During the day while the students are learning, SHAdow takes naps, plays games, and takes walks around the campus. Her favorite treat is boiled shredded chicken, which according to Sr. Elizabeth is a "high motivating treat". Her favorite game includes the "sit game", in which she expects chicken treats if she does it successfully! Fetch and playing in the snow are also part of what she loves to do. In addition to this, her favorite toys are Lamb Chop and a large yarn ball. Although she is still shy, she is adapting to the students. They in turn have been letting SHAdow do this on her own comfort level. As for interacting with other animals, she can be very outgoing.  
Lucy, my own dog, and SHAdow had a wonderful playdate on February the 15th! SHAdow was very friendly and wanted to play right away with Lucy. With the help of some shredded chicken, they became fast friends! After some time playing together, another friend came from the conference room! The new member of the group was BeeBee, a dachshund! The three amigos had a blast together running around the long hallway of the front building. Hopefully, in the future, SHAdow and Lucy (and possibly BeeBee) will one day have an adventure again. It seems like the purpose of getting SHAdow was to have a positive outcome even with the consequences of COVID, which is exactly what she has done. Thank you SHAdow!