Ballots Are In: SHA STUCO Elections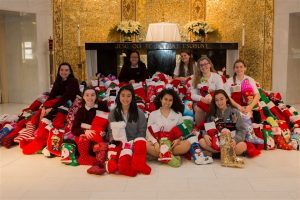 On Tuesday, April 24, the student body voted for next year's Student Council (STUCO) officers. The available positions were President, Vice-President, Secretary, and Treasurer. Glory Villano (Class of 2019), Vivian Wang (Class of 2019), and Mary Sarah Olson (Class of 2019) ran for all four of the positions. Adalyn Schommer (Class of 2020) only ran for the position of Treasurer.
The candidates were selected based on the quality of their speeches; these were broadcast over SHA TV. Mary Sarah went first and ended her short, but sweet speech with "MSO is the way to go!" Glory's speech was slightly longer; she discussed the qualities that would make her a good president and named her tenure as an appointed member and Sophomore class president as credible preparatory experience. Vivian went third, cracking a few jokes about the Network Firewall and also discussing her previous experience as a member of Student Council. Elections finished with Adalyn's speech, in which she discussed her affinity for math, a necessary trait for the position of Treasurer.
Glory Villano was elected President of SHA (PoSHA). After speaking with her, Glory claimed that she ran because she thought the position was right for. Of her upcoming term as president, Glory stated, "I'm so excited to conduct school wide events to continue and strengthen SHA's great sense of community. We have such a diverse group of students and I want nothing more than to represent them and help make their days in high school as memorable as possible!" Congratulations, Glory!
Mary Sarah Olson was elected Vice-President of SHA. Mary Sarah was Secretary of the Freshman Class two years ago and acted as an appointed member to Student Council last year. In regards to next year she stated, " I am looking forward to working together with an amazing STUCO team to increase school spirit and involvement in fun activities." Congratulations, Mary Sarah!
Vivian Wang was elected Secretary of SHA. As an appointed member on the Executive Board last year and President of the Freshman class two years ago, Vivian possesses more than enough experience to be a qualified Secretary of Student Council. Vivian thanks Mrs. Vitale and Mrs. D'Ambrosio for the opportunity to be an appointed member claiming that "it gave me the necessary encouragement to assume leadership roles within my community." In regards to next year, Vivian claims that she "is over the moon excited to be rejoining next year's executive board and is looking forward to a great year." Congratulations, Vivian!
Adalyn Schommer was elected Treasurer of SHA. She cites her involvement in Math League, Moody Mega Math Challenge, and advancement in math as the necessary prerequisites for her position. Congratulations, Adalyn!
As members of the STUCO executive board, these important people will help plan school activities including Spirit Week, Penny Wars, the Stocking Drive, and much more! We are looking forward to a fantastic year!