Grandparents Day, A Success!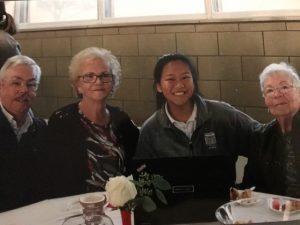 In sophomore year you have the privilege of having your grandparents or a loved one come in for a few hours on Grandparents Day, a special day at Sacred Heart Academy. This year I had the opportunity to have my three grandparents visit. It was so fun getting to spend the morning with them. Even though I see them often and they live very close to me, it was still great to have them at school with me on this exciting day. During their short visit we were able to pack in a lot of fun activities. The students who had grandparents come to SHA were dismissed a few minutes early from first period to greet them. When I came down the hall and saw them, I was filled with complete joy!
First, we ate a light breakfast and took pictures. This was everyone's time to catch up with their grandparents and relax. It was awesome seeing all the grandparents with their granddaughters and there was such a good feeling in the cafe with everyone together. Next we played a trivia game. It was funny to see everyone's answers to the questions, and I loved seeing the grandparents' reactions. After trivia, Sr. Sheila held a raffle for all of the grandparents and gave out prizes. My grandparents did not win anything, but it was still fun.
A few days before the day I was asked if I wanted to read at the Grandparents' Day prayer service. I said yes and I was able to read the introduction in front of my grandparents, which was very special to me. It was such a beautiful service and everyone enjoyed being in chapel. My grandparents were so impressed with how beautiful the chapel is with its stained-glass windows. It was a really enjoyable morning for the students and their grandparents, and I am glad my grandparents were able to attend.
After my grandparents left, it was a regular school day. When I got home my grandmother told me how much she loved my school and her time there. I am so glad my grandmothers and grandfather enjoyed themselves.
Grandparents Day was a great success and I am sad I cannot participate again next year; however, it is a great privilege for sophomores. I am grateful to have my grandparents because they do so much for me. This day is especially important for the girls that do not get to see their grandparents as often as I do, so it is nice that SHA gives up some time for those girls and their grandparents. It is not every day you get to have these special family members with you, everyone should cherish the great moments with them!