No Poor Unfortunate Souls in The Little Mermaid!
Hang on for a minute...we're trying to find some more stories you might like.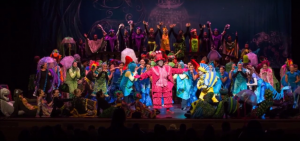 Every year, all the members of the Sacred Heart Academy community, from current students to alums, teachers and people of the Greater New Haven area, look forward to the annual SHA Musical. This being the 75th Anniversary of our school, and therefore 75th anniversary of the musical, it was sure to be one to remember.
SHA's Musical Production this year was Disney's The Little Mermaid.  The cast and crew were made up of over 200 students, in addition to male actors from 10 different schools. Rehearsals began in August and continued for weeks until the culmination the weekend of November 5th and 6th at the historic Shubert Theatre in New Haven. This year was certainly one of the best performances, with the final product being seen by thousands. It was quite adorable to see young girls attending the performance dressed in their Ariel costumes. This is the wonder of a Sacred Heart musical; it can bring joy and happiness to people of all ages.
The brilliant cast from SHA included leads Madison Brenchak '18 as Ariel, Samantha Hekeler '17 as Ursula, Judith Suffrard '17 as Sebastian, Julia Cyr '17 as Scuttle, Erica Gonsiewski '17 as Flotsam, and Veronica Ciccone '18 as Jetsam. The male leads were Drew Waldron '18 as Eric and Ryan Solarzano '18 as Flounder, as well as Shaun Hillis '18 as King Triton. Mary Lee Delaney, a member of SHA's English Department, was the Director and Kimberly Curbow, the physical education teacher at SHA, completed her first year as producer.
The tradition of the SHA Musical is one beloved by many. Students on casts and crew get a chance to learn from experts and have a once (or four-time)-in a lifetime experience in performing at the Shubert. During Tech Week, the equally exciting and intimidating week before opening night, students on crews get to work with professionals! For instance, Hair and Makeup Crew works alongside professional hair and makeup artists. There were also some impressive technological feats for this musical. As many know, The Little Mermaid takes place under water for a large majority of the show. To achieve this illusion, some of the leads were attached to harnesses and mimed swimming, flying, and even drowning while moving about the stage. It really added a level of professionalism and sophistication.
To really understand what the musical means to the students, I asked some of the seniors, for whom this was their last year, why it is so special and why people are drawn to it. One dancer, Miriam Desrosiers, said, "Because it's such a good experience and you get to interact with a lot of different people." Casey Szeligowski, Costume Crew Chief, had to say, "It's a mini family."  Cathleen Halasinski, Head of the Sound Board, added, "I've been part of sound crew since Sophomore year. Even though it's only for a week, it's so much fun. We're all in this together. We all have our individual parts and together we can make something beautiful." Belle Nilerud said that being in the Shubert, as opposed to putting the musical on in a school gym or auditorium, makes all the difference, "I got to work in a real life environment and do important tasks in an actual setting." All of the seniors had some bittersweet comments. They were all extremely excited to be promoted to different positions, whether becoming one of the featured dancers or a crew chief, but they were all wistful of departing the Shubert that has become like a second home.
On behalf of the entire SHA community, we would like to congratulate the cast and crew of The Little Mermaid on a fantastic show. We can't wait to see what next year will bring!