Field Day with the SHArks
Hang on for a minute...we're trying to find some more stories you might like.
This year Sacred Heart Academy decided to have its first field day in quite some time. This idea was brought up by Mrs. Curbow and made possible by the Spirit Club and all the faculty and staff. Groups were split up with about six girls from each grade on every team. Some teams got really spirited and decided to wear team colors, or even put face paint on and make up team cheers.  It was such a great opportunity for the upper and lower class-women to bond and have a lot of fun while doing a lot of crazy activities!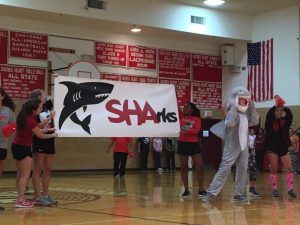 On Field Day, class ended at 11:55 a.m. and all students had lunch together, with hamburgers and hotdogs. Around noon everyone gathered in the gym where Mr. Bedocs made a very exciting announcement: the new SHA mascot is the SHArk! A new design was displayed and t-shirts were thrown into the crowd. With everyone energized and ready to go, Field Day began!
The day was filled with various activities such as water sponge races, football throws, tennis ball tosses, hula-hoop competitions, and obstacle courses. The lively staff was stationed at each event to help conduct and judge the competition between two teams. The winning team received a certain number of points but both teams had the opportunity to receive spirits points for cheering on their teammates at each event. All the activities were fun, and the excelsior SHA girls took each challenge seriously and did their very best at each station. All the points were added up, and in the end Team 4 took the first-place prize home!
Field Day this year was a huge success. Everyone had a lot of laughs and girls from all classes worked together to try to get their team as many points as possible. Although everyone was working for their own team, all the teams were working together for SHA spirit. Go SHArks!